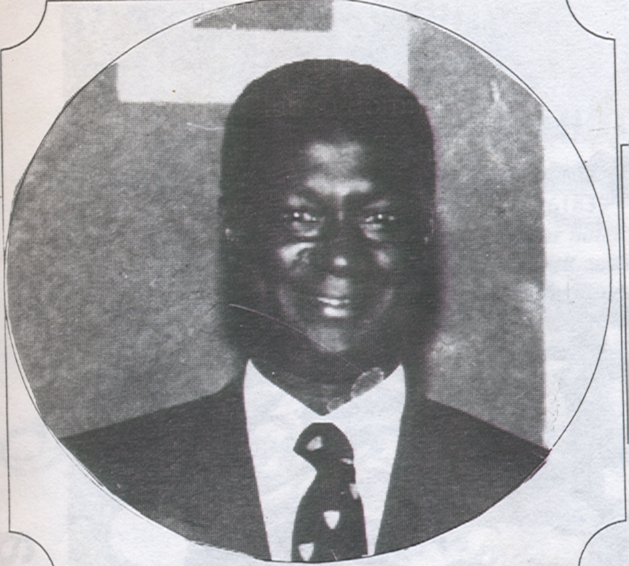 Hello and a warm welcome to yet another scintillating edition of Personality of the Week, your weekly column aimed at bringing prominent Gambian top notches and achievers into the limelight.
In today's edition, we bring you the profile of an outstanding sports personality who for many years won the hearts and respect of every Gambian, young and old; a man whose capabilities, skills, high sense of commitment to duty and strategic initiatives go beyond sporting.
"Some are born great, some achieve greatness and some have greatness trusted upon them", a popular saying by world acclaimed poet, William Shakespeare.
What's Gambian football without a mention of the all time great Alhagie Momodou Ngoos Njie commonly known as (Biri- Biri). Who else can overshadow the monumentally achievements of Biri- Biri in Gambian football? He'll go down in the history of Gambian football as the greatest football talent this country has ever produced.
Just as no African leader can outshine the likes of Nelson Mandela, Kwame Nkrumah among others, so no Gambian footballer can eclipse Biri Biri; they can only be like. Footballers like Biri Biri are usually the benchmark for others to follow in this country.
Even when the Gambia produces great footballers like it is currently doing in the future, they will be always ranked after Biri Biri because he is a trailblazer. He has pointed the way forward for young talents to follow, drawing heavily and deeply on his vast experience as a footballer at the top level.
Alhagie Momodou Ngoos Njie was a major force in guiding and directing the development of football in the country. It is in this light that we find it worthwhile to bring you a profile of this great son of The Gambia. Please sit back, relax and enjoy the reading.
Born in the late 40's, Biri Biri attended Albion, Stanley Street, St. Mary's Primary and CrabIslandSecondaryModernSchool. He started playing football in the streets of Banjul and was the captain of the CrabIslandSchool team. His qualities were first observed by the by the late Alhagie Ebou Conteh who introduced him to league football in 1963 with Black Stars, a second division team. He played only one match for black stars and was promoted the very next day to the 1st division team, Black Diamonds and played in their cup final the same day.
During his playing days in The Gambia, he was the player that every team wanted to have on its side. He went on to play for white Phantoms, Arrance, Augustinians and Wallidan winning trophies and medals with all these teams.
A household name in the Gambia, Biri Biri was first selected for the national team in 1963 when he was still going to school and was an automatic choice for selection in the national team until 1985- a staggering 22 years. He continued playing for his last team Wallidan until 1987 when he finally decided to hang up his boots.
Biri Biri played against teams from Senegal, Mali, Guinea Bissau, Cape Verde, Mauritania, Cote d'Ivoire, Sierra Leone and was very well known, admired and respected in all these countries.
In 1965 after playing against Sierra Leone, he was signed by Black Pool Football Club in Sierra Leone as a semi professional. In 1970, he was invited for trials with DerbyCounty football then a 1st Division English League Club.
In 1972, he turned professional and signed for a Danish 1st Division club B1901. In 1973, he signed a five year contract with Seville FC a 1st Division team in Spain.
In 1978, he returned to Denmark and played for Herfolio FC until 1981 when he returned to The Gambia and continued playing with Wallidan.
In recognition of his contribution to Sports and football in particular, he was awarded the MRG on two occasions; in 1985 by the President of the 1st Republic Alhagi Sir Dawda Kairaba Jawara and in 2000 by the President of the 2nd Republic Alhagi Dr. Yahya A.J.J Jammeh.
Though retired from active play, Biri Biri still contributes to football by advising players particularly those in the National team about tactics and training methods. As a qualified and effective leader, Biri is currently the manager of the Senior National Football team and is also a member of the National Sports Council. He would undoubtedly have a moving and inspiring success stories to recount since he shines at any corner of duty call.
In recognition of his fantastic contribution towards the development of football in this country coupled with the huge promotion and exposure he has given to this country, Alhagie Momodou Ngoos Njie alis Biri Biri was voted the Most Outstanding Sports Personality of the year 2008 and was inducted into the hall of fame.
Having already left an indelible mark in all corners of society, Biri Biri's ability to succeed has been established beyond any reasonable doubt. . His impressive track record coupled with his diverse experience most especially in the area of sports, has put him upright as the one of the greatest citizens that this country has ever produced.
He is a man whose vision and mission for this country makes him stands out as a key stakeholder in the socio-economic development of this country. His name has and will remain clear in the history books of this country.
Read Other Articles In Article (Archive)