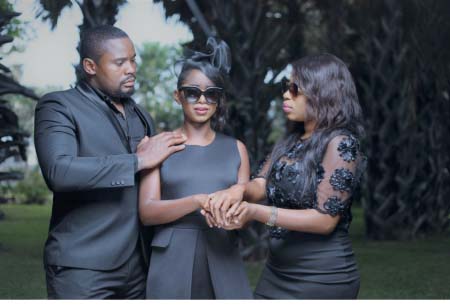 (Thursday 17 October 2019 Issue)
It is an indisputable fact that Africa is blessed with huge talents, which if nurtured would certainly turn the continent's obstacles into economic opportunities. However, harnessing the potentials of these young talents to be productive citizens and contribute greatly to national development sometimes remains a great challenge.

A young Gambia-based female entrepreneur is committed to changing the status quo by calling upon more people to invest more in movie industry, with the coming of their first movie titled- Can't Have it All.
Produced under Lamp House Production, the blockbuster movie is set for premiere on November 30th at Kairaba Beach Hotel.
For Lilian Azizi, the Producer at Lamp House Production, she says the entire team is even more excited to bring into fruition their first blockbuster movie.
"Can't Have it All, is a movie that narrates the story of four independent career women and their journey through friendship, relationships and betrayals. The story gives a compelling view of how they endure betrayals and other challenges. It brought together a dynamic cast of young Gambians, Senegalese, Sierra Leoneans and Nigerians.
She expressed her passion about cinematic films and to push young Gambian talents on the global film industry".
"We are passionate about cinematic films, and we want to push Gambian talent in the Film industry, to the rest of the African continent. We have worked hard to make this movie entertaining and memorable. We will also use this movie as a learning pillar for many other projects to come." She told this medium.
Born in Malawi, Aziz was the 2003 Miss Malawi runner up. It was in 2005, when she and family moved to The Gambia, where she did advance courses in business management, before setting up her own car rental company AfriqCars Motors some few years later.
The young entrepreneur cannot hide her love for entertainment especially in fashion. Her love for movies led her to produce cinematic films on the global level.
"My passion has always been in television and entertainment. If I had grown up in a country that exposes young people to the movie production industry, or one that values the economic benefits of the industry, I would have enrolled in one right after high school. Unfortunately, most African countries do not have such privilege. And a career in the filming industry was not sufficient enough to make a decent living at the time. Now, I want to use my skills and expertise to do something I am passionate about. I want to create educative and entertaining films for viewers both in Africa and the Diaspora. We need to develop our "stars" and showcase them on the big screen".
"The Gambia is a diverse country, so it was easier to get a cast of Gambians, Nigerians, Sierra Leoneans, Lebanese, and a Gambian-German person. We work together as Africans and a united body, regardless of what passport we hold. We are all one, and with that, we were able to create magic. The film has a total cast of 40 including extras" she added.
She continued; "In the movie, as I wanted to challenge myself, so I played Rosie. She is a strong, confident woman who works towards making her life perfect. Other characters in the movie are, Yanji, played by Sara Dibassey. The character is a lawyer and advocate for Gambian youth. We have Ceecee, a gym instructor, played by Margareta Forster, and Veronica, a wedding planner, played by Delphina Johnson. For the male characters, we have Danny Constant, JJ Robinson, Omid Wisdom, Sherifo Kanuteh, together with many other big names in The Gambia".
Apart from The Gambia, Aziz plans to screen the movie in Nigeria, Senegal, Malawi and other main TV stations and eventually online TVs.
'If we are lucky, maybe even land airlines deal. Wouldn't it be great to fly and have the option to select a Gambian film on the plane?'
The ex-Miss Malawi 2003 runner up equally called for more support to young talents in The Gambia and help push the film industry to grow at the same level as the music industry.
"The Gambian film industry needs help. We need support in training, starting from the primary level. Schools should incorporate Film studies into their curriculum. We need programs or workshops that focus on developing acting or drama skills. Film producers and directors need proper training. There should be funding for this industry and more support from private sector. It is hard to work in an industry that lacks sponsors or where only a few people believe or see your vision. The entertainment industry is a big economic stream that needs investment. We need to support talents in The Gambia and push the film industry to grow at the same level as the music industry".
She is optimistic that someday their aim is to work on a Pan-African level where all African countries will welcome the Gambian content.
Aziz spoke highly of their next project which will engage three locations in Africa. This, she said, would be more complex in logistic, but the bigger the challenge, the more exciting it gets.
"At this point, I would like to thank my incredible team and the partners we have on board".
For more details, contact us on web. www.lamphousefilm.com
Read Other Articles In Article (Archive)