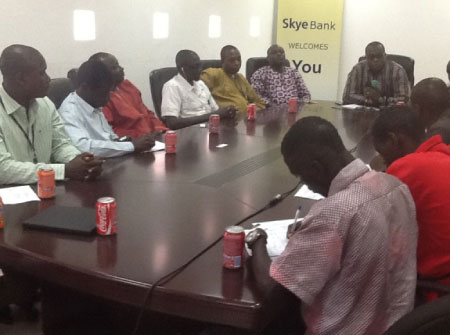 Skye Bank Gambia Limited will sponsor the 2013 Super Nawettan football competition, as part of its contribution to the development of Gambian football.
The sponsored deal was revealed on Friday at a press conference held at Skye Bank Conference Hall on Kairaba Avenue.
Speaking at the press conference, Skye Bank Managing Director and CEO Akim Yusuf said his bank is proud to be associated with the Super Nawettan organizing committee in their quest to promote and develop sport in the country.
Mr Yusuf said the sponsorship package for the 2013 Super Nawettan competition is three hundred and fifty-five thousand dalasi (D355, 000) and there will be prizes for the winners, runners-up and others.
He added that they will also provide the twelve zones with jerseys.
According to Mr Yusuf, they wanted to sponsor last year's edition of the nawettan but could not due to some eventualities.
While thanking the Super Nawettan organizing committee for organizing the competition the Skye Bank MD challenged the committee also to organize a women super Nawettan competition, which will be very instrumental in grooming young talents in the country.
The Human Capital Manager of Skye Bank, James Leke, said the partnership between Skye Bank, GFA and the Super Nawettan organizing committee is part of efforts to promote and develop football in the country.           
 Baboucarr Sallah, in charge of Cooperative Unit at Skye Bank, said the bank "is really proud to be in partnership with the Super Nawettan Organizing Committee".
Sallah appealed to the twelve participating zones to maintain peace during the tournament, whilst wishing them all the best in the 2013 competition.
Ba S. Jabbi, Assistant Marketing officer of the Super Nawettan Organizing Committee, said the organizing committee was set up last year, adding that they are really delighted to receive a sponsorship package from Skye Bank Gambia Limited.
The super nawettan, which has been playing for many years, continues to attract large numbers of spectators, he said.
Jabbi thanked Skye Bank Gambia Limited for supporting the organizing committee, saying the support would aid the committee in organizing thorough nawettans.
Read Other Articles In Article (Archive)