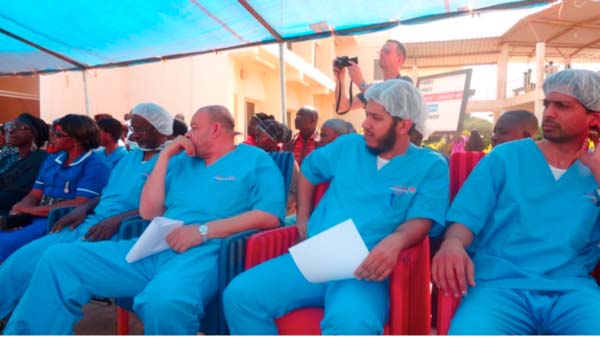 The management of Serekunda General Hospital through the Ministry of Health and Social Welfare Monday received a team of VESCO Fistula Vaginal surgeon doctors from Holland and Saudi Arabic.
The doctors, who will be offering free surgical operations, are in the country through the sponsorship of Munazamat Al Dawa and Dr Jah Sharab Clinic.
Welcoming the delegation to the Serekunda General Hospital on behalf of the Health Minister, the permanent secretary, Mrs Saffie Lowe Ceesay, said the event was in line with the vision, mission, goals and objectives of the Gambia Government to provide quality healthcare to its populace.
"As a government, we are responsible for providing quality healthcare for the citizens and non-citizens alike," she said, adding that Government alone could not do it, which is why they have development partners to complement its effort.
She said the Physicians Across Continent (PAC) comprises doctors from Saudi Arabia, Sudan and The Gambia and they have planned to operate 100 patients mainly of fistula cases and other surgical conditions such as hernia hydrocele prostrate.
She disclosed that since their arrival on Thursday and started operating on Friday, they have operated 46 patients, females, adults and children.
"Fistula vesco is a condition which affects women as a result of complication of prolonged labour," PS Lowe-Ceesay stated.
She also disclosed that this was their third visit to the country and in the last two visits the group conducted more than 100 surgical operations such as thyroids hernia and lipomas release of contractures.
"They have successfully conducted more than 400 wound care procedures," PS Lowe revealed, adding that they have planned to conduct 50 surgical procedures on different surgical conditions free of charge and both teams came with their surgical materials.
"The teams are working and would continue to work very closely with the staff of the hospital to achieve the target," she said while thanking the facilitor of the PAC team, Munazamat Al Dawa Al Islamic and Dr Jah of Sharab Clinic.
She also thanked the Holland team and coordinator, Ms Carla, for complementing the effort of the Government in providing quality healthcare.
In his welcoming remarks, the chief executive officer of the hospital, Saidu Beyai, expressed appreciation in receiving the team at the hospital and also thanked Dr Jah for facilitating initiatives geared towards improving healthcare delivering.
He assured the teams of a good stay at the hospital and by extension in the country.   
Read Other Articles In Article (Archive)