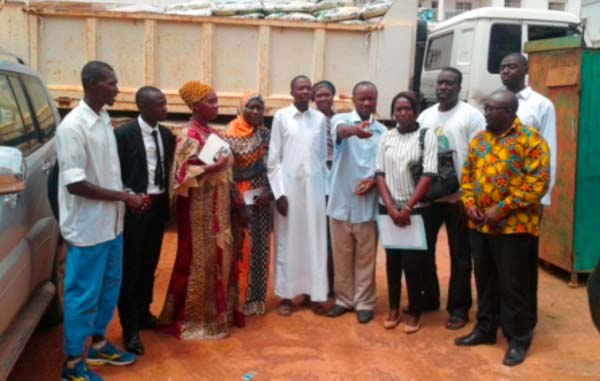 The International Islamic Youth League (IIYL) African Youth Development Centre yesterday donated 400 bags of rice (25kg), 50 bags of sugar (50kg) and 400 gallons of 5 liter cooking oil to the National Disaster Management Agency (NDMA).

In addition to the materials, IIYL pledged to give NDMA D40, 000 for the transportation of the materials as well as for its loading and off-loading.
IIYL is one of the leading humanitarian, non-governmental, non-ethnic organisations, providing minimum standards of protection and assistance to refugees, returnees and internally displaced persons in the areas of Water and Sanitation, education, primary healthcare delivery services, food aid, agricultural and orphan support.
It was also to provide other community development services assistance in a drive of repatriation, resettlement, reconstruction and emergency relief and disasters response worldwide to alleviate the lives of affected people of both natural and human disasters.
Speaking at the presentation ceremony held at the NDMA Office, Omar Jammeh, IIYL Director of Children and Orphans, thanked NDMA for opening their doors to them.
He also expressed their readiness to continue collaborating with NDMA as they could not work in disaster areas without involving them.
Mr Jammeh announced plans to support 500 orphans across the country this year.
Alhajie Sanneh, Executive Director of NDMA, thanked IIYL for the gesture on behalf of government, office of the vice president, NDMA and The Gambia in general.
He declared that they anticipate disaster issues to be disturbing this year based on the predictions given that there would be heavy rains.
"We look forward to this kind of support in the future," he stated, while recalling that they recorded 15, 000 people affected by storm of flash flood last year.
He assured them that the materials would be delivered to the people that really deserve them.
IIYL's vision is to inspire and empower young people initiative and realisation of human potentials to contribute to peace, human security, and development within communities and responding to humanitarian and natural disaster and development paradigm in pre and post conflict countries.
Its mission is building partnership and networking with humanitarian, development agencies and governments to promote positive agenda for young people and provision of protection and program assistance to the most marginalized and disadvantaged people and people affected by forced disappearance and natural disasters.
IIYL main objectives includes: promote and empower all category of youth; provide humanitarian relief and emergency response; provide protection, care and maintenance for vulnerable children; prevention and response to gender-based violence; promote education and technical vocational skills for marginalized people; promote environmental protection and sustainability; strengthen community health and sanitation driven programs; promote charities to the homeless and orphan children; promote good governance, justice and accountability; promote water, sanitation and hygiene practices to prevent diseases among others.
Read Other Articles In Article (Archive)