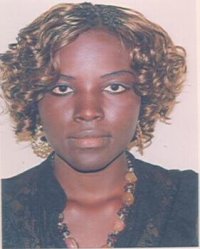 The newly elected president of the Sports Journalists Association of The Gambia has called on the entire sporting associations of The Gambia to adopt the policy of carrying along sports journalists to international competitions so they can have firsthand information about such events and whatever may transpire during the coverage. 
Sainabou Kujabi made this call at a recent meeting convened by the National Sports Council for all national sports associations at the Independence Stadium.
Ms Kujabi, who is the first female to be elected as president of the Sports Journalists Association of The Gambia (SJAG) on 1 October 2010, is compelled to point out that on many occasions, sports associations do travel to international championships or competitions without sports journalists but would end up coming back to the press or journalists to publish such events for the associations or for public consumption.
This, she said, is unfair on the part of the journalists as well as on the public who consume such information, adding that other countries around the world, including neighbouring countries such as Nigeria, Ghana and Sierra Leone, travel with sports journalists to international events.
"It is unfair that associations travel without journalists and the same time rely on the same journalists for publication of their articles," Ms Kujabi said.
"We do publish such information for the interest of the country and sports in particular but we have realised that it is not fair as far as we are concerned because those information might not be firsthand information," she said while appealing to sports associations to consider the country's sports journalists to enable them disseminate factual information for the interest of the general public who has all rights to information of public interest.
A nominated candidate of the Gambia National Olympic Committee (GNOC), Abdoulie "Baks" Touray, has backed Ms Kujabi's request for sports associations to consider travelling with reporters to the international sports games, saying: "The major issue is that we need to understand the fact that sports journalists need to be given maximum consideration given the fact that they are an integral part of the country's sports development."
The GNOC, which has a longtime relationship with sports journalists in the country, used to travel with journalists to international events in the past, said Touray, who has regained his voting right in the GNOC presidential election after it was suggested during the election that he was not qualified to vote despite being the 2nd vice president of the Commonwealth Games of Africa.
Read Other Articles In Article (Archive)