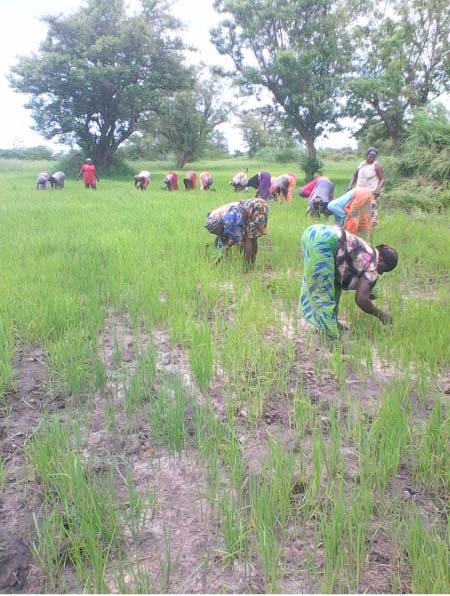 Women of Sittanunku village in Upper Niumi District last Friday descended on the rice field of Jerreh Sittanunku Development Association to clear it of weed.

The women converged on the 1.5 hectare 'faro' in answering to the village-wide call made by the JSDA agriculture committee for the women to help in weeding the farm.
The women volunteers said their large turnout was a show of solidarity to JSDA and expression of appreciation for the initiatives that the association has been undertaking since inception.
Nyima Marong, one of the women volunteers, said they are always eager to show their support to JSDA because the establishment of the association has further cemented the unity and togetherness in the village.
"We are with you in this work because it is for the development of Sittanunku and we pray to Allah for the association to continue developing," she said. "Anyone working here is not working for the association per se but herself because the association is for the development of everyone in the village."
Fatou Gassama, another woman volunteer, said working at the JSDA rice field is their little contribution to the development of the association since the association stands for the development of the village.
Other women, including Mabinta Jammeh, Fatou Joof, Nna Binke Jammeh, Kuntoba Drammeh and Awa Camara, spoke highly of the association, affirming their commitment to help the association at the farm whenever the need arises.
Mamudou Sillah, chairman of JSDA agriculture committee, said the committee was "very happy" as they called for help and the women responded in large number.
"We cannot say or do anything than to thank the women for coming here considering the fact that today, Friday, people usually take off from working on rice fields but these people instead of relaxing, they are here working for us. We are so happy and thankful to them," he said.
Other members of JSDA agriculture committee, Fatou Kolonding Jammeh, Majula Jammeh and Bekilling Jammeh, Aja Darboe and Fatou Jammeh, all re-echoed the fact that since the cultivation of the rice field, the women have been very supportive.
The coordinator of JSDA chapter in Sittanunku, Alagie Manneh, said the large turnout of the women is a show of unity and solidarity at the village.
"Almost the entire women folk of the village is here and we are very much appreciative of their work," he said.
Read Other Articles In Article (Archive)