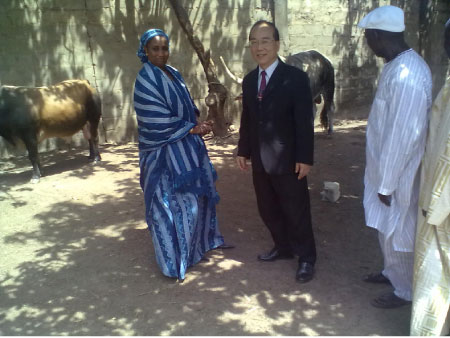 The President of the Republic of China on Taiwan (ROC), H.E. Ma Ying-Jeo, on 1 June 2012 donated bulls and camels to the Jammeh Foundation for Peace (JFP) at a ceremony held at Farato Farm.
Seven bulls and five camels were donated to President Ma during his recent visit to The Gambia by President Jammeh.
Speaking on the occasion, the Taiwanese ambassador to the Gambia, Samuel Chen, revealed that the gift was a special one to the foundation as it was also a special gift by President Yahya Jammeh to his Taiwanese counterpart.
In mid April 2012 President Ma visited the Farato farm and received the donated items from President Jammeh.
Ambassador Chen said his president was very excited to receive the bulls and camels but it was difficult to export them to Taiwan and as a result he decided to also donate them to the JFP.
"We know that the JPF is always working for the public welfare," said Ambassador Chen, who said he was hopeful the donated animals will be used to promote the welfare of the Gambian people while saying he was very impressed about the friendship between the two nations.
Madam Nancy Njie, CEO of the JFP, thanked President Ma through Ambassador Chen for the gesture and indicated her pleasure to receive the donation.
The Republic of China on Taiwan is a true friend to The Gambia, she said, recalling the support the foundation has continued to receive from Taiwan.
She finally assured the donors that the proceeds of the donation will be put into the good use.
Speaking earlier, Ardy Sarge, Chairman of the Fun-raising committee of the JFP, said that ever since the inception of the foundation, Taiwan has been very supportive of it.
Farato Alkalo Musa Manja, farm manager, all spoke at the ceremony, also attended by Bai Matarr Drammeh, a member of the JFP board.
Read Other Articles In Article (Archive)