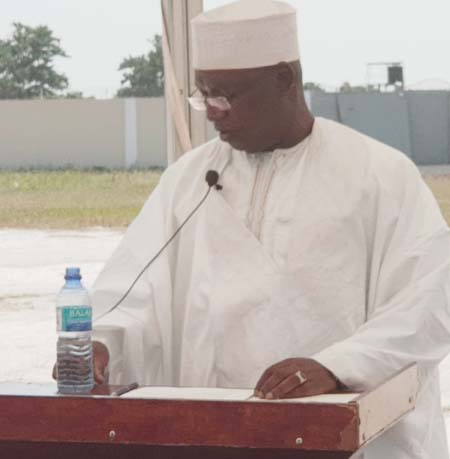 The first batch of intelligence officers who were trained by the State Intelligence Services (SIS), at its new Banjulinding academy has graduated on Friday.

The graduation ceremony was attended by the Director General of SIS, Ousman Sowe, and senior management and staff of the agency.
Many have described the new academy as one of the best on the region. It was opened in February 2019 by the then Secretary General and Head of the Civil Service. Officials say the graduates were trained in areas ranging from terrorism and counter-terrorism, economic threat, crisis management, intelligence tradecraft and human rights, among others.
Director General Ousman Sowe described the event as another milestone in the history of The Gambia, calling on the graduates to live up to expectation with a view to enabling the agency attain its objectives. "The academy is built with the objective to train our operatives to meet international standard. I can tell you that it is one of the best academies in the region that have all the necessary facilities."
He said capacities building training for staff remains a top priority for the senior management of the SIS. "We want to create an opportunity where our staff can build their capacities in national security issues in for them to meet international standard."
The batch, he went on, comprises both men and women and that they are the first to be trained in their new academy. He congratulated the senior management for the achievement the agency has registered for the past two years under his leadership.
He called on the graduates to exercise professionalism and be objective during the course of their work and reporting, while reminding them of the 'No more excesses' at the agency and other human rights violations, as it is part of their reform agenda.
The SIS boss informed the graduates that the government and the SIS will continue to endeavour and provide the most conducive work environment for staff, while attracting the best and the brightest of Gambians to work at the agency.
He said over the past two years more than 60 staff of the agency has been sponsored to undergo studies in higher institutions of learning within and outside the country.
"Some of our staff are currently doing higher diploma, postgraduate, graduate among others in various filed including economics, international relations and foreign laws, crisis management, medicine among others."
The SIS, Sowe stated, is focusing on transformation in the context of reforming and repositioning the SIS as the premier intelligence service in The Gambia. "The Service's relationship and acceptability both within and outside the country has significantly improved."
The SIS, he concluded, will continue to work in the interest of the country and the people. "It will be a service of people that is not based on region, ethnicity, and gender among others. We will continue to focus on our mandate in providing intelligence gathering, analysis among others to country. Our operatives are 24hours working in ensuring that the country remains in peace in order to enable us achieve rapid socio-economic development."
Read Other Articles In Article (Archive)