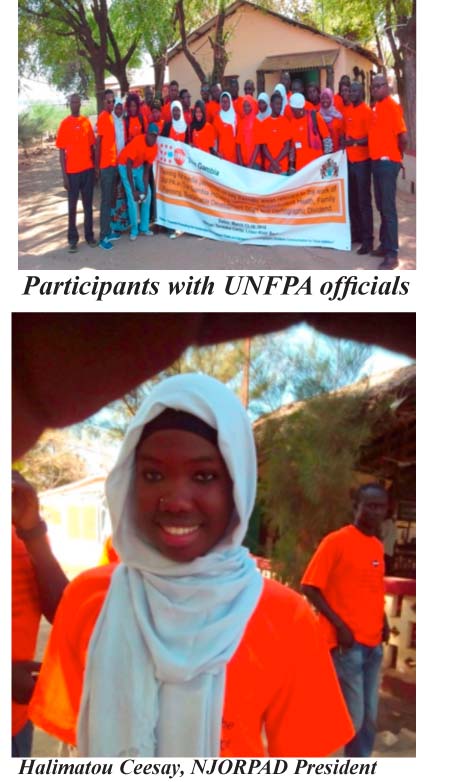 United Nations Population Fund (UNFPA) country office in partnership with the Network of Journalists on Reproductive Health, Population and Development (NJORPAD) recently held a four-day residential training course, for 30 media personnel drawn from across the country.
The training course focused on key thematic areas relevant to the work of UNFPA in The Gambia such as sexual reproductive health, family planning, harnessing the demographic dividend and communicating the Sustainable Development Goals (SDGs).
The training activity held at the Tendaba Camp in Kiang Central district in the Lower River Region (LRR) was on the theme: "Towards Promoting the Sustainable Development Goals and Harnessing the Demographic Dividend Communication for Value Addition."
Speaking at the opening ceremony, Halimatou Ceesay, president of the Network of Journalists on Reproductive Health, Population and Development (NJORPAD), said the network was formed sometime last year when UNFPA did a similar training course for media personnel from across the country.
She said part of the expectation of the training course was to form the network of journalists, who would report on UNFPA intervention areas, particularly areas that deal with women and youths, as well as taking them to task when it comes to the implementation of their strategic plans.
According to her, some of the executive members who were part of the last training session would be part of the training activities as facilitators, and they decided to bring in fresh faces this year from the print and the electronic media.
All the 30 participants were selected based on their experience and skills with regards to journalism in their various media houses, Ms Ceesay said.
The participants during the four-daycourse were trained on sexual reproductive health rights and family planning technology, UNFPA Strategic Plan 2014-17 and Business Model, Demographic Dividend and Youth Employment opportunities, communicating the SDGs, among other thematic areas, she added.
She said they learned and shared ideas, as well as equipped themselves with tools that they could use when writing human interest stories on SRHR, family planning and harnessing the demographic dividend.
Ms Ceesay further said that since all of them are from different media houses, it was important for them to mingle and share ideas, as well as help each other during the sessions so that everyone could be on the same level.
The membership of the network is open to all of the participants, because the training was also one way of recruiting media personnel to join the network, she said.
"It is good for all of them to work together in ensuring that they deliver a world where every pregnancy is wanted, every child-birth is safe and every young person's potential is fulfilled," Ms Ceesay said.
Also speaking was Alieu Jammeh, SRHCS coordinator at UNFPA, who said at UNFPA they have an interest as far as sexual reproductive health is concern.
He said sometimes when they talk about family planning people tend to misconceive a lot, because they tend to relate it to promiscuity.
Mr Jammeh said further that family planning was more than that, and it was about planning one's family to have a good and happy family.
He said since journalists are the mouthpiece of people in spreading the message, it was important for them to have a clear knowledge and a very good understanding of this so that the public would be made aware.
It does not mean that they have all the knowledge because they would also learn from them in understanding of their community and their people and by sharing some of those understanding with them, he added.
What happens between communities differs, and family planning is not about that particular commodity that one drinks or injects, but about planning one's family.
Planning one's family based on income, status, relationship with family and community, and also to know that there are emerging issues now based on behavioral change, communication strategies, among other things, he went on.
In an interview with some of the participants, Rohey Jadama, treasurer NJORPAD, said access to contraceptive is a human right; hence it should be accessible to all women irrespective of their geographical location in The Gambia.
Even those rural women should have access to SRH services because it is their right to get it, and couples should go together to hospital to be counseled on family planning methods rather than only the wife going to the hospital.
Ms Jadama added that planning one's family is very key and should be encouraged, because they are not advocating for people not to have children, but to do it responsibly so that those children could be catered for accordingly.
She said women and girls who are not married and want to use contraception should not be discouraged to do so, because at the end of the day there would be nothing like unwanted pregnancy and illegal abortions.
Amadou O. Bah, NJORPAD secretary general, said he believes they could ensure that every pregnancy is wanted by doing advocacy and raising awareness to involve youths to be family planning conscious, so that any pregnancy that takes place is planned and wanted.
"It is important to talk to youths about sexual reproductive health and rights, and also make it accessible to them so that they can make a choice."
With regards to the use of FP methods by youths, there is a need to build youth-friendly centers in the communities, where they could be counseled on their SRH rights.
Women should be given the rights to have a say over their sexuality, and their husbands should give their consent for women to go in for family planning, Bah added.
Read Other Articles In Article (Archive)