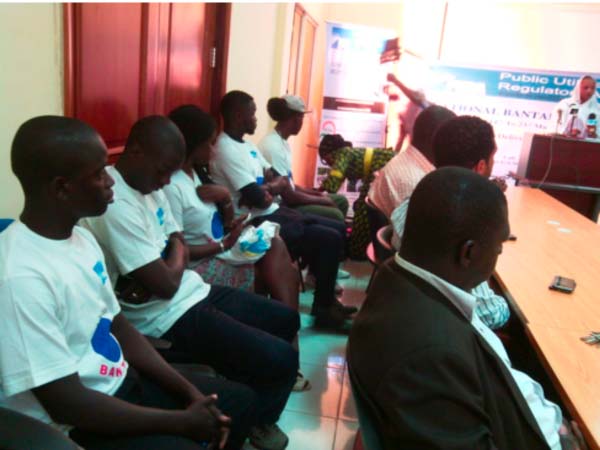 The Public Utilities Regulatory Authority (PURA) Monday embarked on the Bantaba outreach forum in the country, with an official opening of the Bantaba held at the authority's office on Kairaba Avenue recently.
Speaking at the opening ceremony, PURA's Director General Ansumana Sanneh said the PURA Act 2001 requires the authority to ensure that its services are provided throughout the country.
The authority should also ensure that all users of the regulated services are protected with respect to prices, quality and variety of services, among other responsibilities.
Mr Sanneh said the authority had recognised, in the conceptualising phase of the Consumer Parliament, that the methods employed in the urban areas would not necessarily be appropriate for the rural areas.
Therefore, it had since been decided by the authority that for the interests of consumers of regulated services in The Gambia to be equally protected, it is imperative that a different but equally effective method is designed to meet the needs of the users of regulated services face-to-face at local community level.
"This gave rise to the idea of a Bantaba-style forum, where the CA Directorate will visit communities in their towns and villages bringing information, communication and education to them."
He added that remarkable development strides have been made by the Gambia government under the leadership of President Yahya Jammeh.
He said in 2011, the authority embarked upon a similar campaign which saw them take on most parts of the country, to a fanfare of accolades from consumers and operators alike.
The objective of the outreach forum is to serve as a platform to enable consumers to be informed, educated and made aware of the rights they have in respect of the services they consume, as well as their obligations, he said.
Momodou Badjie, chairman of the PURA board of directors, said PURA organised the event to enable consumers get face-to-face with their service providers in resolving their ongoing problems.
Read Other Articles In Article (Archive)