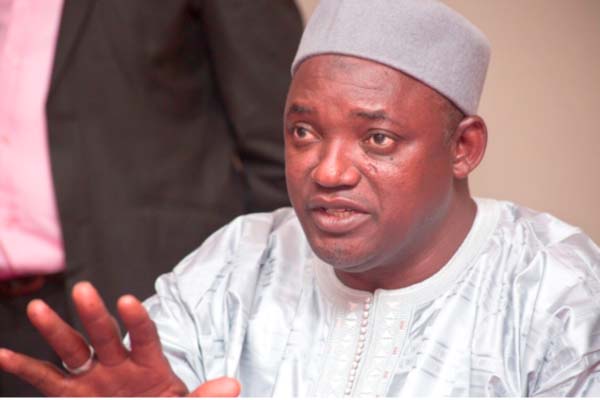 When the news of women and children arrested at Kanfenda in Foni struck me, the question that came to mind was - must women suffer under President Barrow and the Coalition Government's leadership?

Balancing the gender gap was what the coalition government said when they selected a female to the position of a vice president and, since then, we thought that it will not stop there; but that in every development agenda they set forward, women and issues concerning them will be mentioned directly and not to hide them behind an agenda that is general to all.
We also hope that any harassment towards women will not be tolerated, regardless of their political affiliation.
The gender gap was, indeed, balanced with two females in the cabinet for now. Is that qualified as balancing the gender gap?
Women play a very important role in the development of any country around the globe, and The Gambia is not an exception.
Women are the coalition and the coalition is women, because without them there would not have been a unified body that will stand up to challenge the incumbent, and won.
When the President was just a president-elect, one member of his media team, who is a woman herself, told me that she does not think that the women's issue is so important that the President can grant an interview on that. The question that came to mind then was - Is the women's issue not a national issue?
What can be more important than talking about one's plans for the women of this great country of ours? These are women who prioritize voting over their kitchens, laundry, gardening, selling things to survive, and leaving their children behind just to go and cast their votes; so that the change that we as a nation are enjoying today came to be realized.
Why are they suffering before they even get the chance to enjoy what they helped put together?
What will the coalition campaign trail look like without the participation of the women who rallied behind them, cooked, clapped, sang and danced for them?
These are the very women who toured the length and breadth of this country with the coalition, leaving their families behind, just to effect change.
These are people, citizens of this country, who are our mothers, sisters, aunties, daughters, nieces, wives and our best friends that fought hard to change the mindset of the young, old and loved ones to help bring about change.
So if that change is here today, is it too much for them to know the plans of the Coalition Government towards their welfare, growth, and issues affecting their lives and livelihood?
Why are you arresting them just because they have a misunderstanding among themselves? They voted for change so that arresting them whilst they are pregnant or nursing their children will be a thing of the past!
How can we as a nation eschew vengeance when our cabinet ministers cannot forget and forgive? Why is our security arresting nursing mothers, pregnant women and children?
They are women of this country; not well off, but they use the little they have to buy 'ashobee', put it on and stormed the Independence Stadium in a manner that was never seen before.
I don't think it is too much for their issues to be part of the national issues of development for the Coalition Government.
The Coalition Government should know that encouraging enmity, tribal and political war among women of this country will not yield positive results. It will not promote development; instead it will consume them all and lead to instability in the country.
'The Gambia has decided', should not be seen as a song or praises to the ear of the Coalition Government, but rather it should be seen as a statement that is truthful, and meant to be against anyone who disrespects the people of this country just because they are exercising their right to belong to a political party of their choice.
The women of this country deserve to be included in the development agenda of the Coalition Government, including mention in the inaugural speech.
They need markets to buy and sell their products with ease. They need good drainage systems to keep their gardens working during the dry season. They need ownership of land, which is a human right for women as human beings and citizens of this country.
They need farm inputs, fertilizers, tractors and anything and everything that will help ease the burden of farming on them, and make them economically independent.
The women of this country need to have access to quality health services that will promote their reproductive health rights. Pregnant women in the remote areas need health facilities closer to them that will ensure the survival of the unborn child and mother's with no complications. Women want the government to put in place mechanisms for blood to be available when they need it in our labour wards, so that no woman will die while giving birth, because of anaemia.
Mr President, the women of this great country wish that you, at least, highlighted some of their issues in your inaugural speech; but since that was not the case, your government can make sure that the Women's Bureau or the office of the VP will be accommodative, in addressing all these issues, including action against gender-based violence perpetrated against women, by making sure that the Women's Act and other laws on women be enforced to the letter.
Let the Women's Bureau not be turned into a Coalition Women's Bureau, but a bureau that will accommodate all the women of this country irrespective of the political affiliation, since paying tax knows no political affiliation.
Mr President, it is rather unfortunate that the issue of women using verbal abuse against each other, from both supporters of coalition and APRC is escalating, and the government is not helping by holding just one side accountable, while the other side goes scot-free; when what is important here is that all of them are citizens of this country, regardless of the party they belong to.
We hope in the spirit of reconciliation that all those women and children behind bars will be released, and both sides called to your office for a reconciliation meeting to settle their differences, so that peace will reign and development will take place in our motherland.
Mr President, the growth of women of this country is the growth of The Gambia, and all of us residing in it, but violence among them will dragged us back to where we were; so we hope the minister of the Interior will work with the IGP, Women's Bureau and VP's office to look for mechanisms to reconcile women from different parties and not to wait until they started fighting, and give an order for the arrest of one side.
When women start fighting, it could escalate because each woman has thousands beside her that will stand up and fight with or for her; so it is in the best interest of all Gambians for this feud to come to an end.
Finally, we hope that the Coalition Government will approve women candidates for the National Assembly elections, so that matters concerning them will be addressed the way it should be in the country's parliament.
We also hope that balancing the gender gap will not just stop at appointing a few females into the Cabinet, but that women will have the opportunity to work side by side with men across all sectors in the country.
Read Other Articles In Article (Archive)