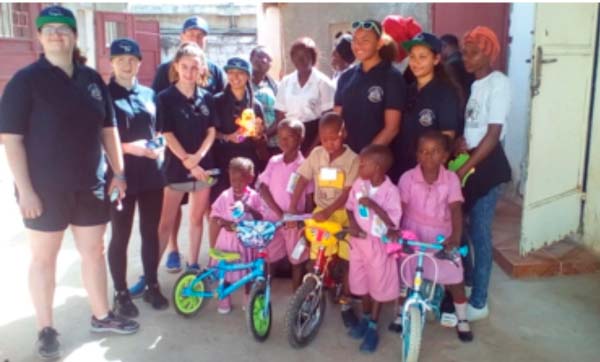 PL George Nursery School has received donation of bicycles and sanitary materials from its London friends.

The donation by Police Cadet from the London Metropolitan Police and others came through the help of President International Awards (PIA).
The bicycles are meant to ease the transport hassle that the pupils face to and from school and also to help ease the expenditures that parents incur on the transport fares of the children to school.
Samuel Y. Sarfo, board chairman of PL George school, said: "We are very delighted as teachers, parents and guidance to receive such a donation."
He further applauded the donors for "this kind gesture".
The team leader of the donors, Jill Dimartino from London, expressed gratitude for the pleasure with which the donated materials were received.
This it is now her fifth year coming to The Gambia with items like school equipment, bicycles, and sanitary items to donate it to schools.
"We have these items in London but they are more needed in The Gambia than there, this is why we are delighted to bring them to The Gambia," she said.
"We are happy to support children in The Gambia; we are always happy to put smiles on the faces of children."
The head teacher of the PL George Nursery, Muhammed Camara, said the school is delighted to receive "this kind of gesture".
However, he appealed to the donors and other partners for more support, saying the school is faced with many challenges that need to be addressed
Read Other Articles In Article (Archive)