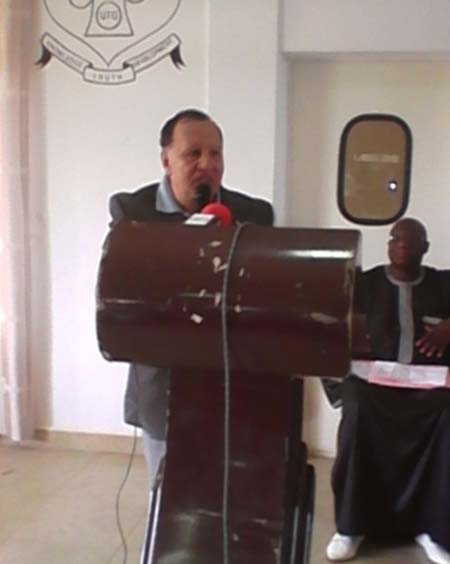 The new vice chancellor of the University of The Gambia has said students of the university usually complain of high tuition cost "but without big fees, we cannot run the university".
"We need money to run the university; the staff should be paid and the other facilities should be taken care of which cannot be done without money," Prof M.I.A Khalil said during the orientation of 545 and 58 undergraduate and postgraduate freshmen and women held at the Law Faculty along MDI Road, Kanifing.  
"There should be payment of fees to allow us run the university because it will be very difficult to run it without money," he said. 
The minimum annual tuition, excluding book bills, at the UTG is nothing less than D38,000 and it increases by 10 per cent every year. On the other hand, the annual salary a bachelor's degree holder occupying a grade nine post in the civil service is about D42,000 per annum.
Prof Khalil told the UTG class of 2015/2016 that the university staff are all working and serving the students.
"We are here to serve you, you are the masters, we are the servants and we are here to serve you," he said. "This policy is going to continue."
According to the VC, the UTG is well known in every community and society, saying the university has become a "highly respected" institution in the sub-region due to numerous achievements over the years.
UTG SG Jenung Manneh said the orientation enable students know the available programmes and familiarise themselves with various faculties and the registration processes.
He said the orientation helps students gather information about academic majors and minors and understand the requirements of academics as well as university requirements and procedures.
"Academic major must be selected based on students' interest, values, skills and ability," Mr Manneh said.
He told the new intake that the UTG is a purposeful university and functions socially and culturally; it provides opportunities for youth to learn and develop themselves.
Morro Krubally, UTG Facilities Manager, told the intakes that his department is responsible for creating comfort for the students, ensuring safety, clean and safe environment.
He said his office work can be easier if the students collaborate with them.
Modou Salieu Sowe, president of the UTG Students Union, encouraged the freshmen and women to make best use of their stay in the UTG.
Heads of departments of various faculties of the UTG took turn to explain the modus operandi of their faculties.
Read Other Articles In Article (Archive)