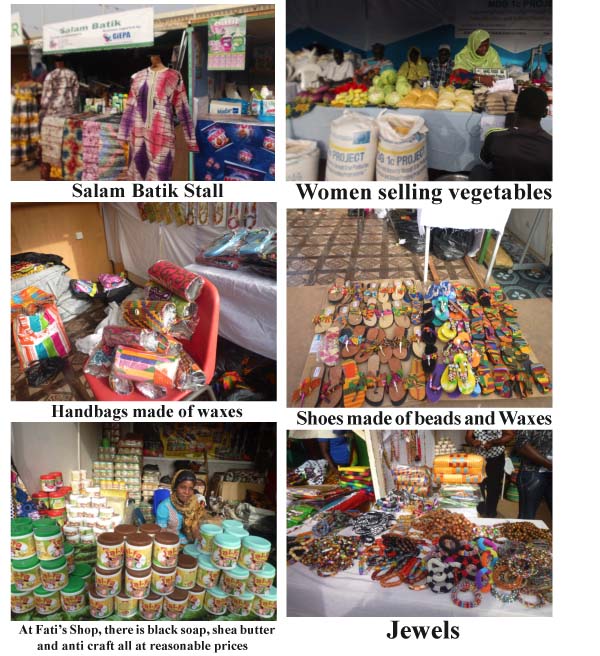 Jewelry Stall
Trade Fair Gambia International organized by GCCI is indeed a shopping heaven for women as it brings to women different materials of beauty that adds class, glamour, colour and taste to a woman's natural beauty.
Trade Fair Gambia International vendors, both national and international, bring to the Gambian women beauty material that they can hardly live without, ranging from clothes, bags, shoes, ornaments, sprays, makeup kits, lipstick, and earrings.
As you go around looking and choosing the items that caught your attention, you must feel tired and hungry; but when that happens going home is not an option, because when you turn around to your right at the far end, you will come face-to-face with a restaurant of your choice, with the kind of food that will recharge your energy to continue with your shopping.
She-she-she visited the trade fair yesterday at the Independence Stadium Bakau to capture the sites of attraction for women, brought to them by both female and male vendors from both The Gambia and international participants.
Entering the stadium on Wednesday afternoon, the trade fair was as attractive as heaven with various items on display.
One that caught my attention was the women's wear, which includes clothes and everything that a woman uses to beautify herself.
Walking into the "Bing Bing" stall, I came face-to-face with various types of colourful, shiny, and beautiful beads splashing and attracting attention from every corner of the stall.
The waist beads are of different sizes, shapes, colours and tastes. Culture, class and courage make a woman to wear waist beads for that man he loves.
What is more trending about the waist beads stall is the fact that it is accompanied by different sounds that carry a message, which is known to only the one that wears it, knows it and lives with it.
The Bing Bing stall also contains lovely bed sheets, pillows, and long overalls for women, shirts for men, handbags made out of wooden and waxes all at reasonable prices and, according to the owner of the stall, "it all depends on the class of material you are looking for".
Yes, it all depends on the class of material you can handle, and they have all types of materials for you to choose from.
According to the "Bing Bing" stall owners, business is going slowly but it is good and they hope that at the end of the day they will all get what they want.
They call on women to come and get the materials at reasonable prices, as the Marche Jula is getting to a close soon.
From the "Bing Bing" stall, I proceeded to a Batik stall where every type of Batik is on display. The Batik looks thick, lively and original from hardworking women and men fit for both men and women.
Spending cash is nice, especially spending what you earned in a decent and dignified way, but also spending it on something that is worth spending on is also very important.
Salam Batik Stall
Well, the Batik on display at the Marche Jula speaks for itself. When you set your eyes on the Batik, you will not be able to take off your eyes without grabbing one or two; because the one who knows the batik art can only further explain the shiny and strong nature of it and live it.
The Batik sellers are calling on all women who are Batik lovers to come and get batik at reasonable prices, as well as Quality Batik, which will last longer and will get old with the texture, colour and taste.
From the Batik stalls to stall A55-56, where women with their items marked MDG1C project brought with them foodstuff ranging from grains of all kinds, cabbages, garden eggs, tomatoes, bitter tomatoes, pepper etc., all fresh from the source at reasonable prices.
The women at that stall want the Gambian woman cooking for her family at home to cook and eat healthy food so as to stay healthy.
Women selling vegetables
The stall also contains groundnut-cooking oils, which are natural and healthy for the body. If you want to empower Gambian women, try to patronize and buy what they are selling.
What they sell is healthy and reasonable; so the only thing you can do to help is to buy their products. They equally call on Gambians to come to their stalls and order fresh vegetables from them.
Hijab is beautiful! What will the world look like without Hijab? That was why I proceeded to the Muslim Women's Stall, where they sell various types of the veil for Muslim women and young girls.
Beautiful veils for you and me at reasonable prices made of pure cotton in different colours, sizes, shapes and tastes.
Hijab can be expensive, but it can also be cheap and beautiful; it depends on the class you belong to or the class you want.
When it is simple, it becomes beautiful; when it is expensive, it becomes complicated; so try a walk to the Muslim Women's Stall at the Marche Jula and choose the veil you feel comfortable in.
To the shoes stall, different types of strap shoes, in different colours, sizes, shapes at the best reasonable prices you can ever be lucky to get. The shoes are almost free, because the prices are very low compared to the ones in our markets.
Handbags made of waxes
Nowadays women do not buy shoes without a handbag to match. Well, there is the Marché Jula for you; it gives you all that you dream of and wanted so badly.
Handbags of different colours, shapes, sizes made of quality leather and waxes are on display at reasonable prices.
The bags are shiny and appealing to any dress you decide to rock it with. Believe it or not, no matter how many bags or shoes you buy, you will not be able to exhaust the shoes and handbags on display; so just shop until you drop, but while doing that don't forget to put your fare aside or you will walk from Bakau to Westfield.
Shoes made of beads and Waxes
One popular vendor whose face is not strange to the Trade Fair Gambia or the Pre Ramadan Market is Fati's; the owner of the Natural Soaps and Oils that gives you that flawless skin you cherish a lot as a woman. She is on the ground too waiting for you to come and purchase as much as you can.
At Fati's Shop, there is black soap, shea butter and anti craft all at reasonable prices.
According to her, she has four types namely, Alovera, Lemon, Honey and Strawberry. There is shea butter, the raw one and the refined one. She has the hair cream with alovera and coconut, which is very good for the hair.
We all know the benefits of shea butter, Alovera and black soap; so these are natural ingredients that will help maintain your natural skin, flawlessly without bleaching it. As natural as it sounds, it is also as reasonable as anything else.
The jewelry shop contains every type of jewelry, gold, silver, wooden, and bead jewels at reasonable prices. It also sells the latest makeup kits, lipstick both hard and stained ones, and lots of other cosmetics are on display.
The lipsticks are not just any lipstick in our markets, but original ones that when applied on your lips make them look kissable, and believe it or not it will always look appealing to that someone special.
Jewels
The HIV Counseling and Testing stall can be found at the far end of the left hand side, waiting for those who want to know their HIV status for free.
Anything you are looking for and is relevant in human life is available at the Marche Jula; so just take a walk there and do as you wish.
Knowing one's HIV status is very important and the test does not take time. While waiting for the test results, you can go around shopping and come back for the results.
Concluding the visit, I passed by the GT Board stall to find out what our tourism people have for us.
Well, I met with a nice young lady who showed me hospitality, which they are always known for.
She told me that they are not here to make sales, but have with them their promotional materials. She said they have the Official Tourist Guide 2015 from the GT Board.
Also the Gambia Hotel Association Brochures, maps of The Gambia with 50 things to do while in The Gambia, and posters of birds, cultural activities, and the fine beaches.
The GT Board stall is calling on people, especially tourists to come and see what they have to offer, including CDs of Gambian birds.
Don't wait to be told about the experience, because I may not have said it all. You can see it all yourself, if you pass by and be part of the Shopping Heaven.
As the GCCI CEO said about the GCCI trade fair, "it is getting bigger and better each year."
Read Other Articles In Article (Archive)