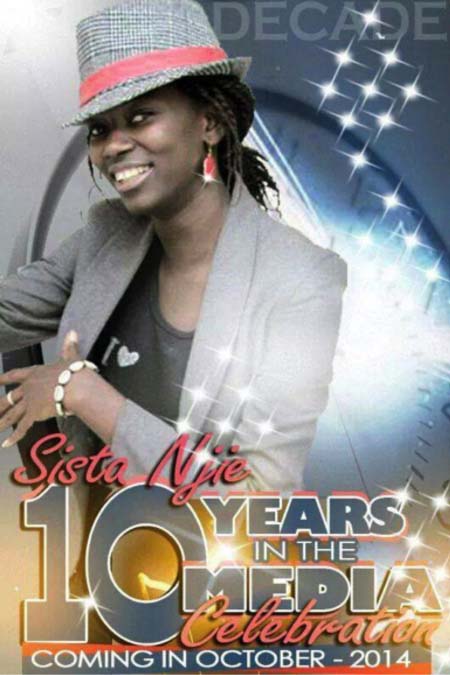 Media is one profession that is also male-dominated, but none the less there are strong women who pull themselves through and make a name for themselves.
Sally Njie commonly known as "Sister" is one of those iron ladies that made it, despite the challenges, gossips and the discrimination.
Sister is the presenter of the famous "Wah Sah Halat" show on Capital FM Radio, a platform for Gambian music.
Sister Njie is one personality that puts a smile on everyone's face, regardless of your sex, position or background.
She is that person that survives all kinds of rumours and gossip ladies face in the entertainment scene.
If you are looking out for her in the midst of many, you should not do so by what she wears, but look for that unique voice that belongs to no one but her.
If you doubt this, have a chat with her and you will fall in love.
Sister Njie is one of the pioneers who nurtured Gambian Music to where it is today. She is a decade old in the media, and she is planning a grand celebration. If you want to know more read on:
She-she-she: What is your name?
Sister: My name is Sally Njie commonly known as Sister.
She-she-she: Can you brief me on your educational background?
Sister: I started my nursery education at SOS. I did my primary education at Bakoteh Lower Basic School. I later proceeded to SOS junior and high school where I sat to my Grade 12 exams.
She-she-she: How did your journey in the media start?
Sister: It all started when I was in Grade 9, when my friend's father will take us to the stadium to watch inter-schools competitions, and we will conduct interviews there. Her father will check on it because he is a lecturer.One day, we were invited to go to West Coast Radio to co-host a sports show. We did well, and then Peter Gomez invited me to go and co-host the sports show with him. It was perfect, then he invitedus to be volunteers at the radio.
She-she-she: How did you get to the Music scene?
Sister: I love music, and I have always been a fan of music since childhood. So while growing up listening to music and listening to Xmyles doing the basement with Blacka Shine and MJ and DJ MO doing Gambian Music, I decided to apply and start doing music.
She-she-she: How do you feel being a female in the media?
Sister: I feel that we as females need to play our part. I hate it when we are left out, because we need to be in it too. During those days, the DJs at the radio, if they are five in number, only one percent of that is female. So that was why I decided to come on board and play my part.
She-she-she: Being a female in the midst of men during that time, did you face any kind of harassment?
Sister: I did not face any form of harassment, but there was gossip here and there, that I was dating my boss Peter Gomez just because I was close to him; and sometimes he did give me his office keys to go there and do my production. But that was because he loved what I was doing, and he loves people with talent.
She-she-she: You are a decade old in the media, what are your achievements?
Sister: I have made a name for myself, because anywhere people hear the name "Sister Njie", it will ring a bell. I have achieved a name as someone who fought for Gambian Music because I made it possible to bring back the former union, made them reshuffle and get started. People outside are also listening to what we are doing now, and the musicians outside the country are also pushing harder to work with us.
She-she-she: What is the "Wah Sah Halat" show all about?
Sister: "Wah Sah Halat" started with the "Moment of Truth" show, where I was hosting a few artistes and we were talking. I told them that I think they needed a platform where they can be speaking their mind. So I decided to change my Sunday show and renamed it "Wah Sah Halat" to be the platform; and that was how it started. It is a platform for people in the entertainment scene, but we are more into the music side.
She-she-she: As a female, what is your take on gender?
Sister: I am in for gender equality when it comes to education and careers; but for 50/50 that they take to their homes, I am not in for that, because between us and men there can never be 50/50. But when it comes to careers, we deserve the same things.
She-she-she: Female journalists in the electronic media complain of harassment from their employers in exchange for a job, what is your take on that?
Sister: That should not be done. Nobody should take advantage of you in the name of giving you a job. Women face it daily; they will want a job, but before getting it they have to do certain things. Even though it is hard, but your dignity as a woman matters and that should be respected.
She-she-she: What do you have to say to those girls out there who will like to join the media?
Sister: People do say that you have to go the extra mile to achieve your goals in life, but you don't have to sell your soul or body to get what you want. Let them respect themselves, and be focused because with their talent they will get what they want.
She-she-she: What is the state of preparation on the upcoming celebration of being a decade old in the media?
Sister: Well, it is very hectic at the moment. I was from a meeting, and I will be heading for follow ups because sponsors are still quiet. But I will continue knocking on their doors. We have everything in place, and the performance list is ready.
She-she-she: What are you doing about the beefing between artistes?
Sister: When it comes to hip hop beefing is part of it, but I feel it should be done responsibly so that you can both market your songs without hurting the other. Here we take things twisted, and Wah Sah Halat is a platform for all of that. But at the moment, we don't waste our time on irrelevant issues. You don't just get up one day and say what the other is doing is wrong, just to get fame.
She-she-she: Finally, what do you have to say to your colleagues that are struggling to make it in the media?
Sister: To all the ladies out, there I want to say "be determined and go in for what you want, but with dignity and pride." 
Read Other Articles In Article (Archive)