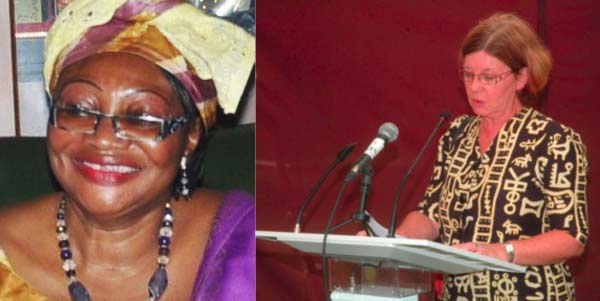 The Delegation of the European Union and the United Nations System in The Gambia Tuesday celebrated the International Day for the elimination of violence against women held at the Ebunjan Theatre in Kanifing.
Binta Sidibeh, Executive Director of Women's Bureau, read the Vice President's speech.
She said: "In the broadest sense violence against women is any violence of a woman's personhood, mental or physical integrity or freedom of movement through individual acts and societal oppression. It includes all the ways our society objectifies and oppresses women.
"Violence against women ranges from sterilization abuse to prescription drug abuse, pornography, stalking, battering, and rape."
"It is disheartening that every form of violence threatens all women and limits our ability to make choices about our lives.
"It is often unclear to a woman who has been victimized and to society whether a violation was done out of desire or intent or whether these motivations are even distinguishable because violence itself has come to be seen as erotic."
"Furthermore, many of those who perpetrate violence feel justified by strong societal messages on acts such as rape, battering, sexual harassment, child abuse, and other forms of violence are acceptable."
"Cognizant of the devastating effect of violence on health, society and the economy at large, a series of international conventions, protocols and agreements have been ratified by the Gambia government.
"Furthermore, a broad-based mechanism has been put in place aimed at addressing violence against women and girls through the domestication of international conventions."
Perpetua Katepakalala, FAO resident coordinator, read the statement of the resident coordinator of the UN System in The Gambia, as follows: "The United Nations defined violence against women as any act of gender-based violence that results or is likely to result in physical, sexual or mental harm or suffering to women, including threats of such acts, coercion or arbitrary deprivation of liberty whether occurring in or out of private life."
"Violence against women is a manifestation of historically unequal power relations between men and women, subsequently leading to domination over and discrimination against women and girls by men and to the prevention of the full advancement of women."
"On the other hand, women are also found to be perpetrators of violence against women and girls. Men, women, boys and girls may also be subjected to violence, but women and girls are the most affected."
"Violence against women is considered one of the obstacles to women's advancement, which is itself a human rights abuse. You will all agree with me that violence against women, be it physical or psychological or both, have profound implications for women's health and empowerment. It also limits the ability of women to contribute to the well-being of their families."
Speaking at the opening ceremony, Ms Agnes Guillaud, Charge d' Affairs of the European Union in The Gambia, said the fight for the elimination of violence against women is of high priority for The Gambia, especially for the Vice President of The Gambia, as well as the European Union.
She said although considerable progress has been made in many countries, they should not allow themselves to get complacent when it comes to protection of women's rights, and the elimination of all kinds of violence against women.
Ms Guillaud stated that it was important to acknowledge that violence and abuse affects all layers of the society every day.
She said up to seven in ten women around the world, according to reports, have experienced physical and or sexual violence at some point in their lifetime; not to mention psychological violence.
"Violence knows no geographical, cultural, social, economic, or educational boundaries. It is a phenomenon that affects all societies, everywhere in the world and on all continents.
"It takes many gruesome forms: from domestic violence, rape and sexual harassment to female genital mutilation and forced and early marriage," she said.
"If we want our societies to prosper, it is an absolute necessity to foster the opportunities of all women - if women prosper! Women's social and economic contribution is much-needed in any country in order for growth rates to increase and development to flourish," she said.
Ms Guillaud further stated that often deep-rooted social and cultural attitudes mean that most victims suffer in silence with little or no recourse to justice or support.
She said one way of changing such gender stereotypes, degrading attitudes and prejudices is to educate people and teach them to stand up against any kind of violent and discriminating behaviour.
"We can all contribute to the elimination of violence against women. Every single one of us! It is important to break the silence and open up the space for discussion at all levels," she said.
She went on: "When a husband can batter his wife while enjoying complete impunity; when millions of women and girls are trafficked in modern-day slavery; and when women bodies are a battleground and rape is used as a tactic of war - it is time for action."
She said violence against women and children has tremendous costs to communities, nations and societies, adding that it negatively affects public well-being, school achievement, productivity and thereby the overall performance of a country.
If unaddressed, such human rights violations will have serious consequences for current and future generations, and for our efforts to ensure peace and security and to reduce poverty in the world, the EU officialdeclared.
Read Other Articles In Article (Archive)