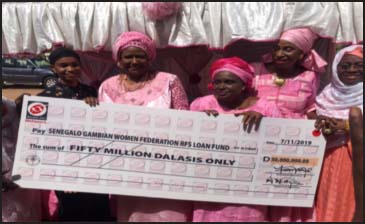 Reliance Financial Services, last Thursday signed a 50 million dalasi loan fund with Senegalo Gambian Women Federation (SGWF) at the Federation's headquarters in Kanifing.

The fund is geared towards empowering women through financial support.
The federation consists of about three thousand members who work in different sectors such as poultry, fisheries and food processing.
At the signing ceremony, Federation president Ndey Awa Khan said their main objective is to empower each other to be on the same level, saying their members are engaged in different businesses to raise their standards.
She said Reliance Financial Services is created to empower women of The Gambia, noting that other Banks would ask for collaterals, but reliance is always willing and ready to partner with all those that cannot provide collaterals.
According to Mrs. Khan, the 50 million dalasi allocated to the federation and would be managed by Reliance. She advised members to use the loan for its intended purpose, emphasizing that the money is a loan that should be repaid.
She thanked the institution for rendering help to the federation, saying, "Business is capital and without capital you cannot do business."
Momodou Joof, Reliance Financial Services head of operations said their institution has reached a membership size of over 35,000 women who are jointly borrowing over 50 million dalasis every six months, with a repayment rate of 98%. "Our women are not only borrowing and repaying on time but they are able to establish a very good savings culture," he said.
He said 50 million dalasis fund is not a loan to the federation neither is it a fund that the federation will manage directly. "The federation will set up an internal loan committee through which all the registered members who wish to access financing support from reliance will send their applications to," he noted.
He explained the process and procedures the members would need to take in order to be granted the loan, saying that the loan will vary from member to member, based on capacity need. It would also vary from member to member based on the activities being financed.
Sarjo Faye, Reliance Financial Services chief finance officer said the partnership between the federation and Reliance Financial Services will go beyond six months. "We want the 50 million dalasi to go beyond ten years because we don't want to withdraw anything from the fund. We want to make sure that the fund is given to each and every woman through the federation in order to improve their lives," she said.
She said the Reliance is working with the federation to introduce capacity building, training programs, financial literacy program to help them in loan monitoring among others.
She urged the members to use the money wisely and thanked the executives of the federation for their hard work.
Read Other Articles In Article (Archive)