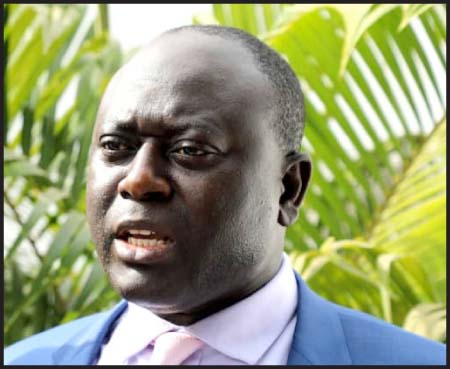 Ebrima Sillah, the minister of Information, Communication and Infrastructure has revealed that the police have sent back the investigation file concerning the fertilizer scandal that gripped the Ministry of Agriculture to the Attorney General chamber for proper advice.

"On the issue of the fertilizer scandal, the file was returned to the Attorney General's chamber. The information I received is that the police actually returned the case file to the AG's chamber so that they can take up this matter for prosecution." Mr. Sillah said during an interview with West Coast Radio on Tuesday.
Meanwhile, Abubacarr Tambadou, the Attorney General and minister of Justice during a press conference in May 2019, said they had instructed The Gambia Police Force to prosecute three (3) persons in relation to misappropriation of fertilizer.
The government of The Gambia, Sillah said, remains serious about fighting corruption. "But remember in The Gambia it is easy to sit and make allegation, but when you confront them to give you facts, you see them running away. I think this is the problem in the country. People sit on comfortable zones and talk about issues that they know they can't even prove."
He added: "I can imagine someone bringing issues of corruption and the government sits without doing anything about that. When you make allegation of corruption, we will make investigation internally, but if there is nothing to prove, we just ignore it. Most of these allegations are mainly on platforms that are difficult even to come out with their proofs."
Responding to UDP leader
Responding to allegation of GRTS's failure to cover the arrival of the UDP leader from his European tour, Minister Sillah said, GRTS has no bias position when it comes to political parties.
"I also see some videos and some people sent me some audios of the statement by the UDP leader and mentioning me and reminding me of what we fought for; and I think that Darboe was a foreign minister and then vice president and he understands government procedures."
He said: "Can you imagine if a minister can go to the office of the director general and look for letters that have been sent to the office of the DG, GRTS to determine what should be covered and what should not be covered?
"I was not aware whether the letter was sent to GRTS or not. In fact it is not the business of the minister to interfere with what letter is sent to GRTS and what they should cover or not. The minister has other things to do than to look for letters sent to GRTS."
Minister Sillah added: "I will be the last person to be part of anything that will stop other political parties of accessing or being heard from the state media; because I fought against that and President Barrow also fought against that."
"When Barrow was the UDP deputy treasurer, he once told me that they went to GRTS just to give them a paid announcement that their leadership was coming but it was never covered. So this is the thing that we all went through in the country and we don't want to go through that again."
Read Other Articles In Article (Archive)