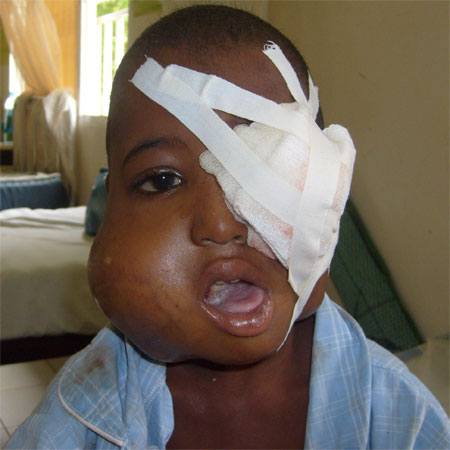 A seven-year old boy from Bansang in the Central River Region is in urgent need of overseas treatment.
According to medical report issued by the Royal Victoria Teaching Hospital RVTH, dated 8thJuly 2008, hospital number 681642 Samba Bah was referred from the Eye Hospital to the Paediatric Neurology Clinic with six month history of painful, progressive haemorrhagic destructive over growth lesion involving the eye ball. The report further revealed that the little Samba looked chronically ill with bilateral significant tender, cervical/ submandibular lymhadentitis, with the right sided lymph notes affected more than the left side. There is a prominent right mandibular and maxillary swelling 8cm x 4cm, fluctuant and tender.
Samba has undergone an indepth evaluation including a multiple targeted issue and involved field metastatic lymph node biopsy. "He will need debulking surgery, trucut lymph node excisional biopsy, left orbital cavity extenteration, the involved field radiotherapy and intensive multimodal chemotherapy which will not be achieved here for now, hence he will need to proceed to a dedicated centre overseas to undertake these" the report concluded.
The father of the little Samba, who looks desperate, Makam Bah told The Point that he is poor and cannot afford to pay for the medical expenses of his son and so is appealing for assistance.
He is appealing to President Jammeh, NGO's, philanthropists, companies and individuals to help save the life of his son. Those who wish to support Samba can contact the father and the doctors on the following numbers 9829577/ 9800244/ 7437802/7286999.
Read Other Articles In Article (Archive)