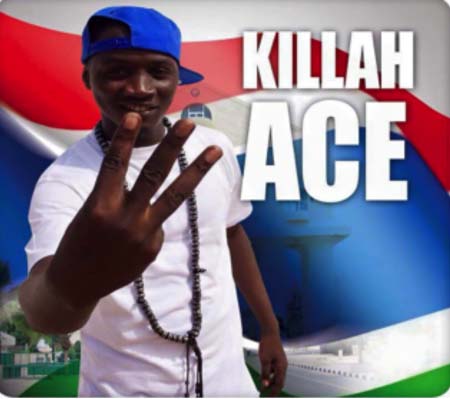 Gambian hip-hop singer Killah Ace was been selected to represent The Gambia in the 10th edition of the 'International Festival of Hip-Hop and Urban Culture' (Festa2H) of 6-13 June 2015 in.
Senegal
This is the third time the singer is taking part in one of the biggest music festivals in West Africa, having performed at the 8th edition in 2013.
On 20 May, 2015 ACE management Straight From Jupiter Entertainment said: "We are pleased to inform the general public that for the third time Killah Ace has been chosen to represent our beloved country at the10thedition of Festa2H International Hip Hop Festival organized annually by Afrik Culture Urban in Dakar, Senegal, from 6-13 June 2015.
It added as part of our growing efforts in showcasing hip-hop from The Gambia to the rest of the world. "We as a team have tirelessly been on this mission from the beginning," he said.
Jupiter Entertainment noted that it is with great pleasure that they revealed to the general public how in some parts of the world their efforts and delivery to more people than expected has been recognised constantly by means of involving them on some of the biggest and most recognised platforms of hip-hop.
"It is with great honor that we receive this news and share it with his fans from across the globe," he added.
"In 2014, a handful of his fans joined the wagon in escorting him to Dakar and watch his performance thereby being the only international artiste on the event to travel with his fans to the event.
"This year too we are opening up to all Gambians with interest in travelling with us to Dakar for three days to take part in this national pride. There will be an arranged transport to and from Dakar including accommodation and feeding at lesser cost, the team will leave on June 10th and return on June 13th."
Killah Ace said he would be featuring HYPER winner of the Cypher Street Rap battle competition in 2015 onstage.
"We will be performing onstage on 11 June in 'Mega Concert hip-hop' alongside hip-hop artists all over the world," he said.
"As usual, I count on your support and prayers for me to execute this noble undertaking on behalf of The Gambia," the best hip-hop artiste of 2014 said.
He also said that together with the support of all he could raise the Gambian flag on the international music platform.
Amadou Fall Ba, director general of International Festival of Hip-Hop and urban culture, said: "The festival is meant to promote and develop urban culture in Africa – urban culture in the field of graffiti, rap, Djs, slam, beat box, break dance, exhibition of arts materials and workshop."
Ba said musicians from Senegal, The Gambia, Mauritania, Chad, Zimbabwe, Niger, Morocco, USA, Brazil, Canada, Germany, Spain, Belgium, UK, Netherland and France will be taking part in the festival.
Music career
Killah started hip-hop in the U.S. during his early age. He is well-known in The Gambia's hip-hop scene as a founding member of 'Cyper Movement', a group promoting hip-hop and clothing line.
In 2013, he released his debut album 'Another Critical Experiment' comprising fifteen tracks in which he featured international artists.
Ace is also the chief executive officer of the 'Straight from Jupiter Entertainment,' which promotes grassroots hip-hop by hosting monthly open-air hip-hop shows and national and international rap battle competitions.
He won the 'Best hip-hop artiste of the year 2014' in a purely Gambian entertainment awards night.
Read Other Articles In Article (Archive)