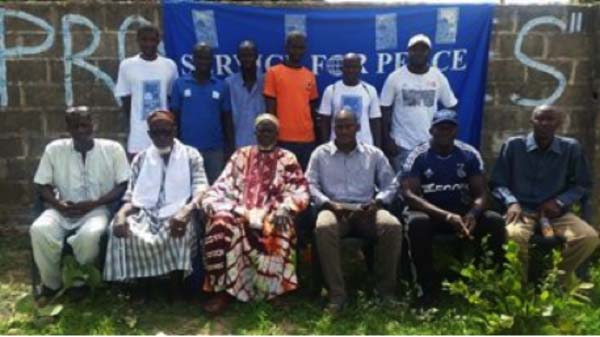 Service For Peace, a non-profit organisation working with youth for community development on Saturday 25 July 2015 launched a project at the Demba Du Mini stadium in Sukuta.
The organization, which has been helping the community in various sectors, involved the sports committee to give a helping hand as both partners' objective is aimed at achieving a common goal, especially in sports development.
Following fruitful meetings, the organisation on Saturday laid the first foundation stone of a security guard room for the committee at the village's football ground as part of their contribution to the promotion of sport in the area.
It is understood that, the need for the project has been on the lips of the sports committee for some time following the level of destruction they encountered at the Dembadu Mini Stadium.
The launching of the project was graced by the representatives of the village Alkalo Alhagie Kawsu Cham, who could not attend the occasion due to factors beyond his control but donated one thousand dalasi to the sports community through his representative Fanuha Bojang.
Lamin Cham, chairman of Sukuta Sports Committee, in his remarks, welcomed the guest and thanked Service for Peace for their gesture.
He outlined the importance of having a security house at the park, saying that soon they would be able to determine why things were being missing at the park and see how they could put a stop to it, as the person in charge of the park will henceforth be fully responsible.
The community coordinator of Service for Peace, Chrono Cham, urged the youth of Sukuta to come together and work towards the development of the village.
Mr Cham compared Sukuta football field to the other grounds in Kombo, saying Sukuta is one of the oldest football fields but it is lacking behind in terms of better playing ground.
He therefore urged his fellow youth to do something for the community because anything that they do is for the deployment of the village which will always make a difference as in the other grounds.
Yusupha Cham, member of the village elders, thanked Service for Peace and outlined the vital role the organization is playing.
He encouraged them to keep serving the community and also urged other organisations to follow suit by coming up with meaningful ideas that will benefit humanity other than venturing into unnecessary parties.
Ebrima Jadama, member of the Federation of World Peace, for his part, emphasised the great role football is playing in the world, saying it is contributing economically and promoting humanity in peace.
He also prayed for the community of Sukuta to continue to uphold togetherness and urged the youth to stay away from any form of evil activities.
Read Other Articles In Article (Archive)