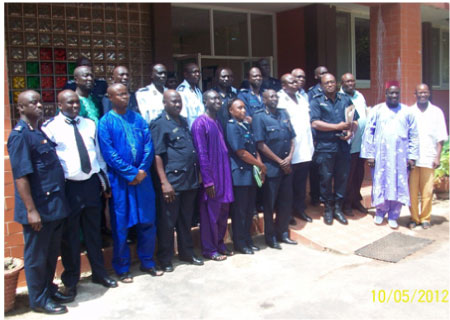 The Management Development Institution (MDI) recently concluded a five-day training course on leadership and general management for senior officers of the Gambia Police Force (GPF).
Speaking at the closing ceremony held at the Institute's conference hall in Kanifing, Yankuba Sonko, the Inspector General of Police said that the training session was very important.
"Maintaining peace and security in any country is not a simple task, especially in this modern generation where criminals dedicate time and resources to equip themselves with the most advanced form of ideas and skills, just to be able to defeat any security mechanism that might serve as an obstacle to the successful conduct of their operations," said IGP Sonko.
He added: "Despite our knowledge of the training and intelligence advancements, criminals and their organizations sacrifice to undergo, the security sector lags behind to catch up and mainly relies on archaic methods of combating crime.
This, he said, is the reason that makes valid the old saying that " criminals are one  step ahead of the security".
"According to IGP Sonko, at GPF they consider capacity development as an indispensable tool in bridging the intelligence gap that exists between the security sector and the criminals.
He said that since the beginning of the year they embarked on a series of capacity development programmes, both locally and internationally with a view to effectively curbing crime in the country.
He challenged all the trainees to maximize and effectively utilize all skills and knowledge they have acquired from this training course.
"It is with this expectation that the training will help to improve their managerial and leadership skills, and further enhance their abilities to contribute in bringing up the force to a status that they have for long been yearning to achieve.  
Alieu K. Jarju, deputy director-general of MDI, said they would continue to reach out to department heads and civil society institutions to make sure that a professional cadre exists in all sectors of the economy to rapidly fuel national development.
He added: "We are confident that through the IGP, the Ministry of the Interior and the Department of Defence, MDI and government can develop an even better focused training and institutional building programme that will target senior and middle level staff in our national security apparatus, to enhance better service delivery and public confidence in the work that you do."
Delivering the vote of thanks on behalf of the participants, Pa Assan Sylva, Commissioner of Police, thanked the organizers, PMO and the IGP for making the training successful while assuring all that they will make good use of the knowledge gained.
Read Other Articles In Article (Archive)