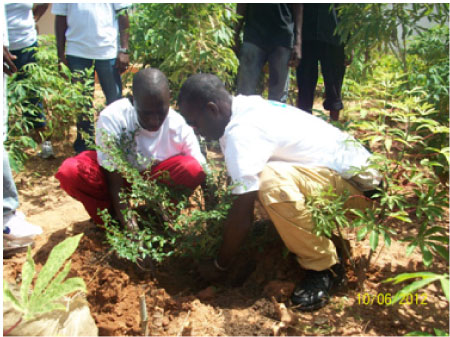 Fajara Rotary Club in collaboration with Standard Chartered Bank on Saturday 6th October 2012 organized a tree planting exercise at the Serrekunda General Hospital in Kanifing.
100 trees were planted in the hospital's campus of various types of plants which include 87 ornamental trees, 3 lemon trees and 10 shade trees.
The planting exercise brought together members from the Forestry Department, Standard Chartered Bank and the Fajara Rotary Club.
Speaking to this reporter at the end of the planting exercise, Foday Sillah, President of Fajara Rotary Club, spoke on the significance of planting trees.
He stated that though the trees are not edible, they are equally important to human health and for beautifying the environment.
Mr Sillah revealed that their intention is to embark on more of this kind of activities.
He further expressed his joy over the good partnership they have with Standard Chartered Bank while urging the hospital management to keep sustaining the trees planted.
Hatab Camara of the forestry department said the trees will add good values to the human health, especially to patients suffering from chest pain and cold as it sends good scent to the people.
Read Other Articles In Article (Archive)