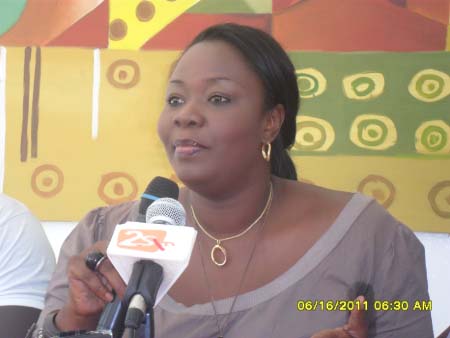 More than twenty senior staff from 2STV Station, a private television station in Senegal, on Saturday celebrated their institution's 8th anniversary in The Gambia.
The occasion, the officials say, was the first time it was held in The Gambia since the TV station commenced fulltime operations in October 2003.
 After the opening ceremony, the 2STVstaff proceeded to SOS Children's Village in Bakoteh where they presented some juice, soaps, and body creams to children of the Village on behalf of the TAMPICO Juice Company in Senegal.
 Speaking at the ceremony, the head of the delegation, Madam Anthia Thiam, thanked the Gambian media for joining them in celebrating their eight years of operation in Senegal.
Madam Thiam said 2STV was launched in April 2003 but started programming in October 2003 adding that one of the reasons they came to The Gambia was because Gambia is a sister country to where some of their staff do come to conduct their programmes.
"The relationship between the two countries is always cordial because we share the same culture and value; that is why the two countries' musicians perform in our respective  countries freely with a feeling of being in their own motherland," Madam Thiam said.
The Gambia and Senegal are one country; that is why we came to The Gambia to celebrate our anniversary," he said, adding that Gambian viewers are very faithful to 2STV - this is why we chose The Gambia for this year's celebration.
Madam Thiam said 2STV station is the oldest private TV station in Senegal, noting that most of the people who attended their 8th celebration in The Gambia were being seen on 2STV station and amongst them were Kebs Thiam, presenter of a famous show called 24 heures Akk, Ki-kanla a monthly TV show; Becaye Mbaye (Joss), a famous wrestler in Senegal, to name few. 
For her part, Madam Kebs Thiam said after so many years of  operation they decided to come to The Gambia to celebrate their 8th year anniversary for one major reason: in Africa they always encounter language barrier problem but for The Gambia, language is not a problem for them; this is why they chose the Gambia to celebrate their 8th year anniversary.
 He added that they can communicate very easily with their hosts when they are in The Gambia.  "Since our establishment, we have learnt that we have more viewers in The Gambia," she said. I am very impressed with The Gambia because as soon as we arrived in The Gambia the people started calling our names all because they use to view our shows on 2STV, and to me Gambians are our very good viewers." 
Madam Thiam said their viewers participate by calling them during their live programmes. "And if the people are very grateful to you, as a human being, you also need to show your gratefulness to them," she averred, saying; "Gambians are very grateful to us so we are here to show our appreciation and gratefulness to them.
Kebs Thiam also said in her show called 24 heurs Akk, she does invite people who have a minimum of 20 years in their professional fields. "24 heurs Akk is a TV show of visiting people from their homes to any place they go within 24 hours, that is why the TV show is called 24 heurs Akk because it is a 24-hour show focusing on one person's activities for a period of 24 hours," she said.
Other staff from 2STV station who also spoke at both ceremonies included Madame Daba Soumare, Amadou Kane, Madame Eva Traore and Madam Ndeye Fatou Kuyateh.
Read Other Articles In Article (Archive)