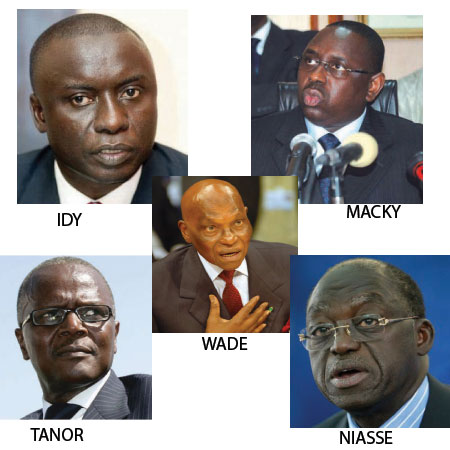 After weeks of riots, voters in Senegal cast their ballots on Sunday in an election that threatens the country's image as one of the oldest and most robust democracies in Africa.
The elections, which followed back-to-back protests by Senegalese after the country's constitutional court cleared President Abdoulaye Wade to stand for a third term, saw some 5.1 million Senegalese eligible voters cast their ballot for the 14 contenders, which included top rivals Macky Sall and Idrissa Seck, both former prime ministers, who had served under Wade.
No clear front-runners have emerged yet, out of the 14 candidates, after a peaceful voting process yesterday.
Mr Wade's re-election bid sparked protests in which several people died.
Last month, the country's highest court, the Constitutional Council, announced that he could stand for a third term despite a two-term limit.
The court also barred world-renowned singer, Youssou N'Dour, from standing in the election.
Foreign powers and diplomats issued last minute appeals for calm and a transparent vote, after a top African mediator failed to secure an agreement between Wade and his rivals over a shortened term for the incumbent if he won, Reuters news agency reported.
Polling stations across Dakar appeared to open on time at 0800 GMT, or with only slight delays, and voting proceeded in an organised fashion, according to witnesses, it said.
In the Gambia, reporters of The Point went out and about to see some 16, 000 registered Senegalese voters cast their votes in 72 polling stations across the country.
In a polling station located at the Senegalese school in Kanifing, visited by our team of reporters, voters lined up patiently as they cast their votes.
The Senegalese ambassador to The Gambia, Diame Signate, described the election, in an interview with The Point at the polling station in Kanifing as free and fair, noting that the electorate have cast their votes without any discrimination.
According to him, between 16, 000 to 17, 000 register voters across The Gambia were eligible to cast their votes in the election.
"Wade is a candidate like any other candidate seeking for the presidency. He is credible and capable of running the affairs of our country, and there is no proof or way to say he is not eligible as a candidate for the presidential race," ambassador Signate said, while predicting a landslide victory for Wade.
In his view, Wade has led a democratic administration where everybody has the freedom of expression to speak his or her mind.
Wade, he said, will have a landslide victory not only in The Gambia, but across Senegal.
Ms Josephine Mendes Wade representing the opposition Rewmi expressed satisfaction with the turnout, and was confident that her candidate, Idrissa Seck, will sweep the polls.
Khadim Touba Diop representing the opposition coalition Bennoo of Tanor Dieng said a win for Wade could lead to more protests, as people want him to step down.
"How can you expect transparency and honesty when all the five judges were appointed by Wade; they will dance to his tune, but even then Wade's rule must come to an end now," Diop told The Point.
Eliman Kah, Wade's party agent, said the election is free and fair, adding that all the party agents and polling staff have been working hand in hand to ensure that everything goes on smoothly.
Ms Jarra Touray a voter expressed satisfaction with the level of preparation for the elections. Though she did not say which party she belongs to, Ms Touray said the dream of the Senegalese people is to get rid of Wade.
First elected 12 years ago, Wade was once hailed as a bright hope for Africa. He spent 25 years as the opposition leader of this nation of 12 million, fighting the excesses of the former Socialist regime that ruled Senegal from 1960 until 2000, when Wade was finally elected.
Many of the people lining up to vote had initially supported Wade in the 2000 election, according to the Associated Press.
The landmark vote marked one of the first peaceful transfers of power from one party to another in the region, which is better known for coups and strongman rule.
For days before the vote, Olusegun Obasanjo, the former president of Nigeria who has made a career as a mediator of African conflicts, shuttled between the presidential palace and the 13 opposition candidates in an effort to find a solution.
Late Saturday, according to the AP, Obasanjo proposed a roadmap that was accepted by neither side, and which would have called for Wade to step down after two years, instead of after seven, if he were to win Sunday's election.
Here are brief profiles of the main contenders vying to unseat Mr Wade.
Ousmane Tanor Dieng: Socialist Party
The 65-year-old was the campaign manager for Senegal's former President Abdou Diouf, when he lost the Socialist Party's 40-year grip on power in 2000.
Popularly known as "Tanor", he has a law degree.
Mr Dieng had agreed to run as part of the opposition coalition Bennoo Siggil Senegal (United to Boost Senegal) - but when Moustapha Niasse was chosen as its candidate, he decided to stick with his old party.
He ran against Mr Wade in 2007, winning 13.5% of the vote.
Moustapha Niasse: Benno Siggil Senegal
Born in 1939, Niasse has a long political CV and is no stranger to presidential elections, having run twice before.
He was private secretary to Senegal's first President Leopold Sedar Senghor, and prime minister and foreign minister to his successor Mr. Diouf.
He served several stints as foreign minister for the Socialist Party and has been involved in mediating crises in Africa.
In 1999 he created his own party, the Alliance of Forces for Progress, and was briefly aligned with Mr Wade - serving as his prime minister before the two fell out after a year.
In 2007 he came fourth with 6% of votes.
Outside politics, he served as the special representative in the Great Lakes of the UN Secretary General, and he comes from the family of one of Senegal's powerful religious brotherhoods.
Macky Sall: APR-Yakaar
The 51-year-old geologist is the mayor of the western city of Fatick.
He is taking part in elections for the first time after falling out of favour with his former mentor Mr Wade, whom he had served as a special adviser.
He was also mining minister and interior minister and, between 2004 and 2007, prime minister.
He was then elected as head of the national assembly but resigned in 2008 - after he summoned the president's son, Karim Wade, to be questioned by MPs.
Mr. Sall has promised to decentralise government and improve the management of public funds.
Idrissa Seck: Rewmi
Popularly known as "Idy", the charismatic Mr. Seck, 52, was once seen as being groomed by Mr Wade as a successor.
He came to the fore in the post-Senghor era, serving under Mr. Diouf and as prime minister in the early days of the Wade government - again until the two parted ways.
He spent 199 days in jail on breach of state security and corruption charges - but there was no trial.
Born in 1959, he was a minister in a unity government under Mr. Diouf and then chief of staff and prime minister under Mr. Wade until 2005.
He is the leader of the Rewmi party (the country) and the mayor of Thies, Senegal's second city.
He finished second in the 2007 presidential election, behind Mr. Wade.
Mr. l Seck has a background in finance and business development, and has promised to privatise the energy sector - Senegal experiences frequent, severe power cuts.
Read Other Articles In Article (Archive)