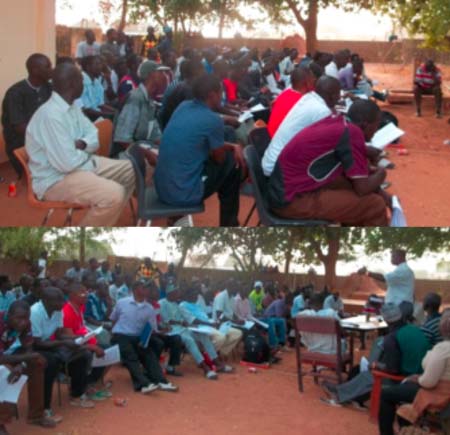 The Gambia Secondary School Sports Association (GSSSA) on Thursday held its annual general meeting at Farefenni Senior Secondary School in the North Bank Region.
The meeting also saw the annual inter-schools athletics competition commence, with students from various schools in the country representing their respective schools.
Speaking on the occasion, the president of GSSSA, Martin Gomez, called on schools to avoid taking students outside their schools to run for them during the competition, as it is not fair.
The responsibility of the association is to organize competitions for schools, he added, while recalling an unfortunate incident that happened two years ago.
They still have problems of schools going ahead and bringing athletes that are not supposed to compete at student level, he went on.
Mr Gomez, therefore, appealed to all members to look at that issue of cheating very seriously, adding that it is nice to win, but winning must not be by force.
If one does not win this year, they should go back and prepare for next year since the competition is an annual event, he continued.
"Cheating is not sportsmanship behavior and is unacceptable in sports," Gomez further stated.
They should look at ways of moving away from such problems, as sometimes schools and at other times athletes become victims.
The responsibility should be that of heads of schools, he went on, and that from now on they are working on having forms for schools to list down all their athletes for approval, to avoid cheating in the future.
With this new strategy the school principal has to sign and stamp the approval, and if anything goes wrong the principal has to be held responsible. Honesty in key in everything one does, and will even help the student competing, Gomez told the AGM.
Alagie S. Darboe, secretary general GSSSA, reported that the association received D200,000 from the Ministry of Basic Secondary Education for the competition.
Darboe said the association also received a donation of D50,000 from the Ministry of Youths and Sports through the National Youth Council, as part of their contribution toward the national athletics championship.
He added that the Gambia National Olympic Committee (GNOC) also donated D25,000 and two trophies. They also received sets of medals from the Gambia Athletics Association among other trophies, and were technically supported by the GAA.
He said the Gambia Football Federation (GFF) through the Secondary Schools Football Association is expected to sponsor an upper basic and senior secondary schools football competition for both males and females.
Results for Day one and two combined for Upper Basic Schools
LK Sabiji 119p
Barra/Essay 108p
Brikama 82p
Kabafita 77p
Talinding 67p
St Francis 51p
Pakalinding and Presentation 42p
St Therese's KM and Kitty 41p
Day one results for Senior Schools
1st Gambia High 107p
2nd Essau 79p
3rd Bottrop 75p
4th Muslim 72p
5th Mahad 49p
6th Bansang 45p
7th Berending and St George's 19p
9th Mingndow 18p
10th Farafenni 15p
11th Tahir 13p
Read Other Articles In Article (Archive)