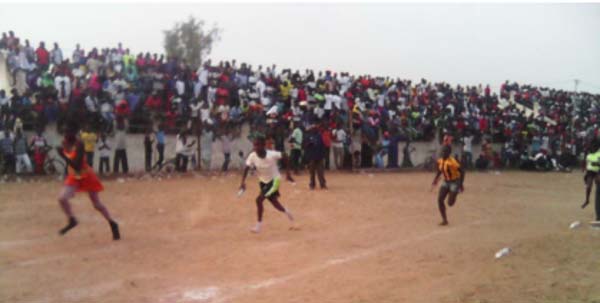 The first zonal athletic zonal heats for the 2016 season wrapped up on Sunday in Farafenni, North Bank Region, amidst rivalry between the leading senior secondary schools in the zone three.
The intervention of the police ensured amicable dispersal of crowd from the Farafenni Mini-stadium after the announcement of final results to avoid contact between jubilating fans of Essau Senior with 423 points and those of Tahir Senior in the second place with 285 points.
It was not clear about the reasons for the "push and pull" among fans.
However, the chairman of games for the Secondary School Sports Association, Alieu Y. Cham, told the media that it was important to avoid a clash between happy and disgruntled fans at the stadium.
He warned that disciplinary measures are in place for any school or student found creating chaos in the competitions.
Analysts say the relationship between Essau and her sister schools in the zone is thawing rapidly due to the school's commitment and success in "grabbing" athletes from others.
The host, Farafenni Senior, earned 185 points in the third place followed by Aji Fatou Bojang Senior with 181 points and Nioro Jattaba Senior with 143 points.
Other results on the Senior School category included: Njane Sanjal, 98; Berending, 92; Bureng, 88; Amas, 87, Kuntaya, 76; Kwinella, 66; Medina Sering Mass, 51; Kerewan, 51; Mbulum, 39; Kerr Cherno, 24; Njaba Kunda, 23; Njawar, 16; Kaif, 14, and St Michael, 3.
In the junior secondary schools level, Barra-Essau took first position with 341 points followed by Pakalinding Upper Basic with 253 points.
Fass Njaga Choi got 171 points, Soma Upper Basic155 points, while St. Michael Upper Basic finished at fifth position with 146 points.
Other schools were Farafenni Upper with 142 points, Pakaliba Upper 133 points, Ndungu Kebbeh 133 points, Berending upper  49 points, Misira Upper 42 points and Japineh Upper Basic 22 points.
The zonal heats events are expected to continue to the Bansang Senior School ground for schools in both Central and Upper River Regions this week.
Bottrop Senior School will host the heats for schools in the West coast Region a week later and the final heats event will take place at the national stadium for schools in the greater Banjul area a week next to the West Coast heats.
Accordingly, the 2016 National athletics finals are scheduled for the national stadium two weeks after the zonal heats.
Read Other Articles In Article (Archive)