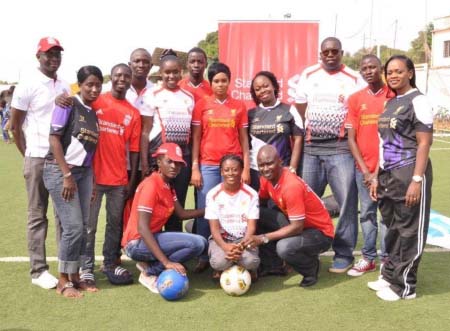 The official ceremony, held at the Father Gough mini stadium at the Manjai Kunda football pitch, brought a convergence of the bank officials and team representatives among others.
According to the bank's corporate affairs officer Oley Damel Faal, the international 5-side tournament has two reserves the Gambia happens to be part of.
"Locally, we are doing an in-house tournament in which all media houses, staff and customers are involved," she said, adding that the local tournament will be conducted from which the crowned champions of five players and two reserves would represent The Gambia in Liverpool Anfield.
She further extended the invitation of all eligible customers, staff and media houses to the event at the football pitch on 18 January 2014 for the formation of the groups and register into the tournament.
The tournament is scheduled on 15 and 16 February 2014, she said, adding that the opening of the games will be witnessed by the Youth and Sports Minister where the two groupings A and B formed earlier to play a knockout game from which the last four teams standing are entered into the semi-finals.
She added that the Youth and Sports minister will open the games where the two winners in each group will progress to the finals to be crowned champions of the tournament and to represent The Gambia in Anfield.
On preparation for the road to Anfield, she said once the winner has been identified, test matches will be organised with leading football clubs in the country to further train The Gambia representatives to Anfield.
She however, revealed that travel documents and visa submission will be coordinated by the Standard Chartered Bank.
According to the head of corporate affairs, Awa Loum-Njie, who stated the eligibility criteria, existing individual customers can deposit GMD10, 000 in his/her account which should exist for a period of one month to be qualified for the draw.
She called on SME customers to deposit GMD100,000 in their accounts for one month and the NTB customers to open a savings account with a minimum of GMD5,000 for one month.Qualified members also include all Standard Charted Bank staff and media partners in The Gambia.
She said consideration will be given to only customers with deposits made into the bank from 1 November to 1 January 2014 to be eligible to participate in the tournament, as well as bank staff and media partners who are registered by the corporate affairs from November 1 to January 1, 2014 for the participation.
Read Other Articles In Article (Archive)