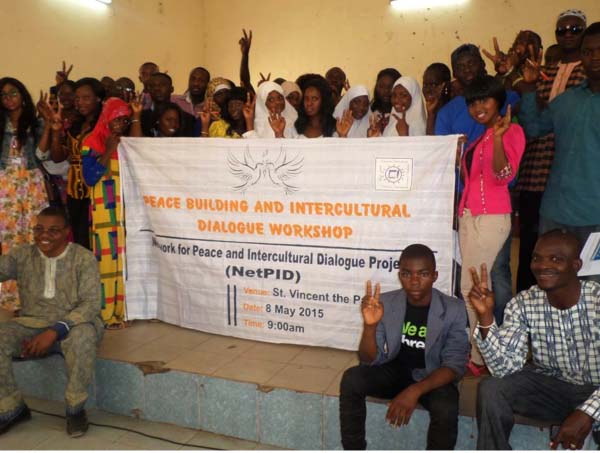 The Network for Peace and Intercultural Dialogue (NetPID), a coalition of nine civil society and community-based organisations, recently organised a daylong forum on peace building and intercultural dialogue at the Father Farell Hall, Westfield.
The forum was meant to engage Muslim and Christian scholars for them to further sensitise the youth of the two main religions that the religions are interlinked in especially in maintaining peaceful co-existence.
The activity is part of the organisation's efforts at promoting and sustaining peace in The Gambia.
Speaking on the occasion, Dr Omar Jah, a renowned Islamic scholar and a university lecturer, urged the youth to be more religious tolerant and avoid any violent conduct in the name of religion, for there is no religion that supports criminality or killing of innocent people.
He said it is a principle of Islam that people from different tribes should be tolerant and love one another.
"God could have created different planets to be occupied by similar people but he rather created one planet to be occupied by all of us so that we live in harmony and interact," Dr Jah said.
The lecturer at the University of The Gambia noted that The Gambia is a role model in terms of peace, saying the youth, most especially, should be pro-active to sustain the peace in the country.
For her part, Pastor Edith Anthony Ibeneme said though peace is prevailing in The Gambia measures like the forum organised by NetPID should be a continual thing to sustain the peace.
She stressed that there cannot be peace for anyone whose relatives and friends are at war.
The lady pastor advised youth to be contended with what they have and who they are.
Abdou Rahman Sallah, executive director of Biodiversity Action Journalist (BAJ), delved into the role of the media in promoting peace and cultural dialogue.
He said cultural references determine people's identity and also affect their perception of themselves.
The media greatly influences not only what people think but also how they act, he said.
Mr Sallah noted that globalisation is not only an economic and technological process it also increases interaction among people, the free flow of information. Cultural interdependence are also consequences of the globalising world, he added.
The BAJ CEO said communicating across cultural differences is a central challenge of the contemporary world.
In this regard, he said, the media has a true 'mediating' role to play in encouraging global awareness.
"The media can move beyond 'scripted stereotypes' and strip away the ignorance that breeds mistrust and suspicion among peoples and societies," Mr Sallah said.
"This way the mass media can further promote tolerance and acceptance of difference and diversity as an opportunity for understanding."
Member associations of NetPID, organisers of the forum, are Conscience International, Sensitive Youth Association, Triple D Foundation, Gambia Federation for the Disabled, Fortress of Development in Africa, Youth Consortium for Progress, Unique Foundation, Biodiversity Action Journalists, and the Association for Young Peace Advocates.
Read Other Articles In Article (Archive)