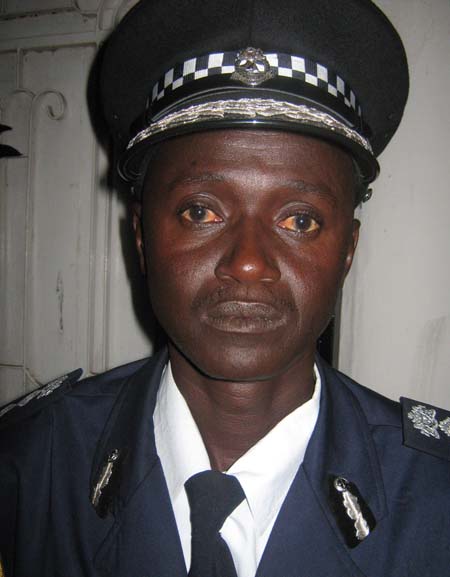 The fate of former police chief Ensa Badjie and former Superintendent of Prisons Ali Ceesay will be decided by the high court in Banjul today, when it delivers judgment in the robbery-related case.
Already on another trial where he faces a 51-count charge, including drug-related offences, corruption and theft, Badjie is among others accused of conspiring "to break into and rob shops, banks and supermarkets, between the years 2007 and 2009".
His charges in this particular case with Ceesay range from conspiracy to commit a felony, robbery with violence, receiving stolen property, aiding and abetting, robbery, conspiracy, to commit misdemeanor, aiding prisoners to escape, official corruption, conspiracy to defeat justice and interference with witnesses, deceiving witnesses, offences relating to judicial proceeding, and using criminal charms.
Badjie and his co-accused first appeared at the Special Criminal Court on Friday 21st May 2010, where they denied the charges against them.
He is currently facing two other separate trials - one with two senior military officers and the other with former head of police prosecution Banjul division, Tijan Badjie.
The then Director of Public Prosecutions, Richard N. Chenge, had previously filed a 17-count charge against Ensa Badjie, CSP Ali Ceesay, and three others, namely Omar Jahateh, a police officer, as well as Kemeseng Kolley and one Ismaila Colley, both prison officers.
The charges against the two Kolleys and Jahateh were later dropped.
Recast
The prosecution in order to prove its case called several witnesses to testify, including one Soriba Condeh, a convict serving a jail term of 14 years, Pateh Jallow, former deputy chief of the National Drug Enforcement Agency (NDEA), Muhammed Sillah, a police officer, Muhammed Darboe, also a convict, and Baba Tundeh Khan, proprietor of the famous 'City Pub' Bar and Restaurant.
Also called in as prosecution witnesses were Fatou Jatou Mendy, Salieu Baldeh, another convict serving a jail term, police superintendent Landing Bojang, officer commanding Serrekunda Police Station, police inspector Abdoulie Sowe, officer commanding Criminal Investigation Department (CID) Bakoteh Police Station, and Dodou Janneh alias Dou Boy, a murder convict serving a death sentence.
Read Other Articles In Article (Archive)