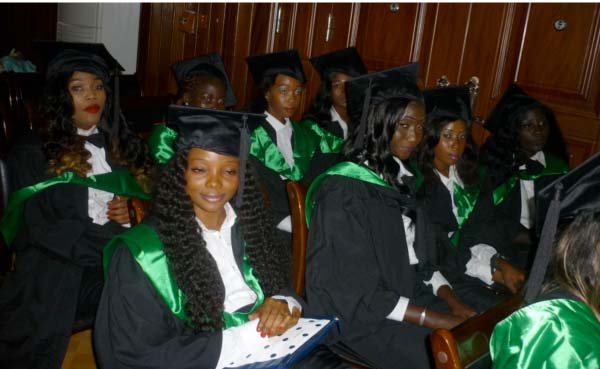 SASS Cosmetology and Skills Academy at the weekend held its first graduation ceremony at a hotel in Kololi.
The 18 graduates, comprising the first batch of the academy, were awarded certificates after one year of intensive skills training.
The graduates were especially recognised for their hard work, dedication and commitment during the course of the training.
The director of SASS academy, Adam Touray-Bah, said the graduation is not a mere resource spending ceremony, it is all about recognising the hard work of the graduates and celebrating their achievement.
She hailed one Yade Jobe, Aunty Fatou Ceesay and Musa Colley "who worked tirelessly to make this day possible".
"I am the proprietor of SASS academy but I could not do it alone; my staff work with me both day and night for the success of this graduation and the school itself," Madam Touray-Bah.
She advised the graduates to live up to expectations and portray the good image of SASS Cosmetology and Skills Academy, adding that the institute is to help young Gambians acquire skills to be self-employed.
Mr Shonobi, public relations and information specialist at the National Training Authority, advised the graduates to exhibit the right knowledge and ability at their various workplaces.
He told them to take good care of their certificates "as it is internationally recognised", while further urging them to learn more to get other international certificates.
Mr Shonobi said the technical education curriculum in The Gambia is of standard; that is why it is ranked third in the whole of Africa.
Alieu Jallow, project manager for start-up incubator centre in The Gambia, commended the graduates for their successful graduation, and the proprietor of the school for making the graduates get the necessary skills.
He told the graduates that they should contribute not only to the school's development but also to the life of other Gambians.
"You are to contribute to the sustenance and financial independence of yourselves and those who depend on you," Mr Jallow said."Also, as you go about your work, make sure that customer satisfaction is your number one goal."
The moderator of the programme, Momodou Njie of the Gambia Radio and Television Services, also commended the proprietor of SASS Cosmetology and Skills Academy for her hard work and commitment in ensuring that the graduates reach the level they are.
He also applauded the graduates for taking up the course seriously and encouraged them to be good ambassadors of the school in the society.
Read Other Articles In Article (Archive)