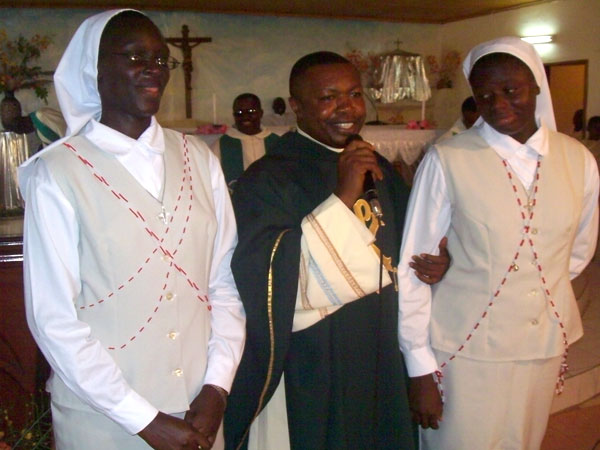 St. Charles Lwanga Catholic Church, a shinning example of a typical parish has again produced two young Gambian Sisters who after four years of studies took the vows of Poverty, Chastity and Obedience in the presence of the Vicar General, Rev. Fr. David Jimoh Jarju and thousands of Catholics and well wishers and in the presence of the Sisters of Marie Riviere at the Holy Family Catholic Church at Bakau in the presence of God the Almighty over the weekend. Saint Charles, the mother parish of the duo, had their thanksgiving and reception of Sisters Bibian Sambou and Rosine Sanyang just after their religious profession.
Reverend Fr. Francis Eyo MSP the parish priest of the St. Charles Catholic Church called people from far and near to join in their thanksgiving Mass for Sisters Bibian Sambou and Rosine Sanyang.
The Sister of the Presentation of Mary Sisters having had their first Gambian Sister in the person of Sr. Madeline Mendy, who joined the congregation in 1973. The congregation has about seventeen convents in fifteen town distributed within Senegambia as follows: Banjul, Serrekunda, Fajara and Brikama. The Congregation set up in the Gambia in 1968 and their first convent was at Serrekunda where they still are at the compound of the Late Mr. Duffield an English man and a water engineer in the colonial era who worked in the Gambia from 1930s and stayed on after his retirement up to his death.
During the thanksgiving Mass Rev. Fr. Bruno Toupan, the principal of St. Peter's SeniorSecondary School at Lamin, praised St. Charles parish and said, "This has eventually become the best parish in the diocese. It is unique in that it was established twelve years ago and within these years we have produced two priests and four Sisters. Fajikunda has surpassed in everything in The Gambia. Sisters Bibian and Rosine have listened and decided to follow and God will be with them."
Fr. Bruno said a woman asked him once why Sisters don't preach. He said he told the lady that the priest is a speaking prophet and Sisters are witnesses to the word of God. Sisters' vocation is not to preach although they can preach but we all have a responsibility. "God has set them apart to do his will," he said.
The Fajikunda people are a giving community, a caring community and more, he said. He said their parish has existed for twelve years but we do more than those who have existed for ages. We have two priests and 4 Religious. "We have big heart to give," he said. The greatest of all commandments he said is love. He said Jesus love is above all. He said brothers should settle their dispute themselves if not go to another party if not go to a community before it is taken to court. "Jesus is wonderful!" he said. He stressed that they love one another.
Fr. Bruno urged those who beat their wives not to beat them again and asked wives to vow stop using bleaching creams and to manage the home more, since the two Sisters vowed to remain Poor, Obedient and Chaste according to Christ's commands.
The dynamic parish priest, who has brought positive changes to the Church, said their church was forging ahead and praised especially Abuko Sanchaba where many of the Sisters and seminarians come from.
The first Presentation Sister and the Co-ordinator of the Sisters in The Gambia said they separated about three years ago from the Senegalese Region and they are now a separate entity. She named their council comprising of Sr. Sarian Gomez, Sr. Mary Potin, and Sr. Marie Badjie, their Novice Mistress.
Sr. Bibian Sambou encouraged the young ones to listen to God and in Church "because they may discover their vocation in any way. They could join the church groups and discover themselves," she said.
Sr. Rosine said becoming a married person is good but to become a Sister too is very good. "We hope by the end of this year we shall have five sisters," she said. She encouraged all to put hands on to take up the challenge by becoming a Sister to serve others. Gifts were presented to them at a very welcoming reception in the Fajikunda Parish Hall.
Read Other Articles In Article (Archive)