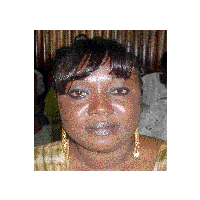 Honourable Oley Sey, nominated member of the National Assembly, has become the latest victim of what is widely believed to be a crusade against corruption. According to reports monitored on the national television, the nominated National Assembly Member's current problem came about after President Jammeh's fulfilment of a pledge to support a nursery school named after his late father, donating D500, 000.00 to the school. It so happened, the GRTS report stated, that the money fell into the wrong hands, one of which is Oley Sey's.
According to Sukuta Jammeh, the officer handling the investigation, the said amount was given to the Chief of Protocol, Mr. Alagie Ceesay, on July 29th 2008, who gave it to the Secretary of State for Education for onward transmission to the community of Abuko. He added that the Mayor of KMC, who was also present during the handing over, advised that the money be banked in an account with three signatories from the community. This, Mr. Jammeh continued, was not done. But instead one Abdourahman took the said amount to Honourable Oley Sey's house. "According to him, he gave her D400, 000.00 and retained D100, 000.00, which Oley denied but accepted receiving D200, 000.00 from him," he revealed.
The  investigator went further to reveal that the said amount of D200, 000 was since recovered from Oley.
Meanwhile, the investigation is in progress to recover the remaining balance missing.
Read Other Articles In Article (Archive)