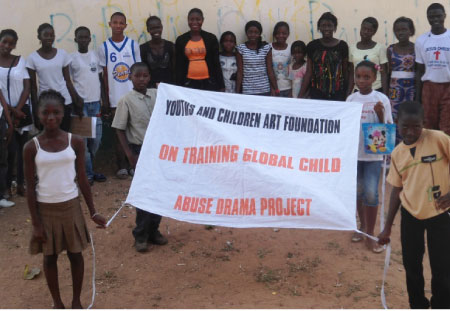 The leadership of Youth and Children Art Foundation has reaffirmed the organization's commitment to the empowerment of children and youth in the country.
The foundation is a registered non-profit charitable organization in The Gambia focusing on education, health, arts and capacity building of children and youth, etc.
According to Fredrick E. Puis, director of the foundation, their aim is to empower and improve the lives of the youth and children, most especially in the rural area, and to enlighten the youth and children on awareness of health issues.
"The foundation has envisioned a world in which all youth and children have equal opportunity to benefit in areas of arts, quality education, and modern health services; a world void of child abuse and children living in a polluted-free environment," he said.
He added that they also look forward to providing access to quality education, good health care and legal assistance to vulnerable youth and abuse of children, most especially in the rural areas.
The newly initiated project that focuses on the wellbeing of youth and children is going through a massive sensitization on the protection of youth and children in the form of a drama.
According to its director, they want to transmit the massage in a form of a drama, which he says would go a long way in helping family members and the public in creating awareness, which is of benefit to youth and children.
The foundation conducts its drama practices on child abuse every Sunday, in which a huge number of youth partake on the advocacy of child right and protection.
After moving around and had dialogues with parents and families, he later found out that there are many things that need to be done for children, especially in improving their education and health care.
He asserted that some children are being abused as a result of not being engaged in activities and leaving them alone.
 He also says they are running a project called "Leave no Child behind", which is a project out to help in pulling down the level of child abuse.
"The issue of child abuse normally happens within the family members, which needs to be addressed and resolved and this drama will help parents to position their child," he points out.
He commends parents for their understanding and support in accepting the idea of the foundation and however appeals for financial support in strengthening the foundation and helping them make sure youth and children also realize they are being cared for.
He says: "Our main constraint is funding; we need sponsorship from anyone to help us run the foundation which is of benefit to the children. With support, we will surely spread this message to the whole world in the fight against child abuse."
Read Other Articles In Article (Archive)