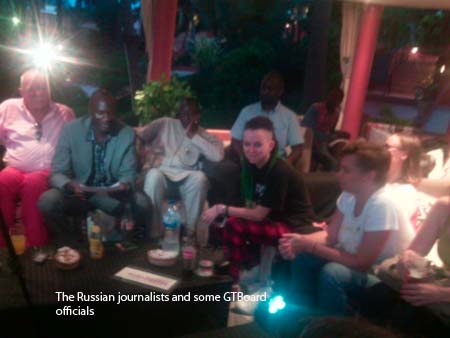 A team of Russian journalists Monday arrived in the country, as part of promoting tourism and selling the product of the country to other destination markets.

Upon arrival at Banjul International Airport, the team was received by officials from The Gambia Tourism Board.
Speaking to journalists shortly after their arrival at the Gala Lodge, Abdoulie Hydara, director-general of the Gambia Tourism Board, thanked the team for visiting the country.
"I know the experience has already started, and I want to welcome you on behalf of The Gambian leader and the Minister of Tourism and Culture.
"We are very glad to have received you, and it has been in the making since we left Russia in November. We have been working tirelessly with our teammate and our representatives in Russia TMI," he added.
"We thank you very much for your efforts in ensuring that this familiarisation trip to The Gambia becomes a reality."
Mr Hydara said the Gambia Tourism Board (GTBoard) was pleased to receive eight media personnel from Russia with whom to share experience on tourism, especially as related to The Gambia and Russia.
Adama Njie, director of Marketing at GTBoard, said it had been a long journey for them, but he could assure them that by coming to The Gambia, they would have a "fantastic experience", so that when they go back they would sell The Gambia and promote the destination.
"I know you would be good ambassadors for The Gambia in Russia."
Mr Njie, on behalf of the Minister of Tourism and Culture and the entire tourism industry, thanked the Gambian leader, as well as the DG of GTBoard and the honorary consul of Russia, for their efforts.
"We have got eight personalities from Russia, and it is spearheaded by the TMI, the company that we appointed in January to promote and represent The Gambia in Russia.
"We are very hopeful that the experience, and what you have seen so far, would tell the story of The Gambia," he added.
Russia's Consul General in Banjul, Lamin Manga, in his remarks, said this was the first time they had received media personnel from Russia to The Gambia.
"I would like to thank the GTBoard for bringing this composition of various journalists to give a wider coverage of The Gambia. We hope that you would enjoy The Gambia, and also use this opportunity to sell the product of The Gambia to Russia," Consul Manga said.
The team leader from Russia, Anastasia Popova of TMI Consultancy, said: "We are happy to be here. We have seen very interesting places to look at, and we would be happy to explore everything you can show us. So we will be happy to see everything that you may think is interesting, so that when we go back to Russia we can tell about the wide coverage of The Gambia."
Read Other Articles In Article (Archive)