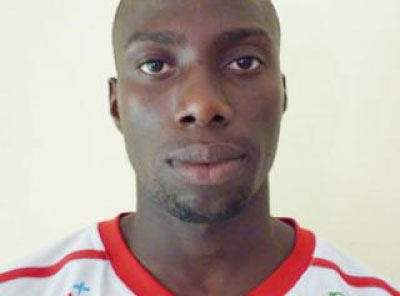 Suwaibou Sanneh, Gambia's 100m sprinter, has said he is happy to be representing The Gambia at the 2012 London Olympics, describing it as the biggest event in the world. 
Speaking at a reception meant to wish Gambian Olympic and Paralympics athletes goodbye and good luck, organised by the British High Commission last Friday, Sanneh said he had very good preparation this time around, adding that he is now waiting to see what he will come out with in the event as he is going to put in his "utmost best".
"I have got everything I need for my preparation already," he said while urging Gambians to pray for them because that is the surest way the nation can support them.
He said he would do his best to lift the Gambian flag high, while advising his colleague Saruba Colley not to look at big-name athletes.
 "Let her concentrate on the race because this is an individual race and not teamwork; let her ignore big names and concentrate on her race."
Some times, someone people think is in top form might loose his/her form before the competition, he reasoned, adding that in a race there is a starting and that "if you loose that starting others can lead you, even if people expect that you will win".
Sanneh also said they are prepared to win medals since they are determined to do their best to please their nation.
Demba Jarju, one of Gambia's Paralympic athletes who are expected to take part in the races, said they successfully went through the qualification stages, which was also very difficult.
Jarju said this is the first time he is going to take part in such an event and thanked God because he never expected that he would take the Gambian flag so high to such an event.
"Let people know that it's their children that are going to represent the country," he said, while urging also the nation to pray for them because "we are ready to lift the Gambian flag high".
He also said: "We train without anything but we are coping since we know that we are going to represent our nation."
Although they need medicines, transport fair, enough good food and rest, as athletes, these are lacking, Jarju said.
They would however live up to expectations at the London Games, he reaffirmed.
"It is God who decides but our aim is to do what no Gambian athlete has ever done for this country," he said.
Isatou Nyang, who will also be taking part in the 100m, 200m, 4000m and 800m Paralympics events, said she is happy since the London 2012 Games will be her first experience in taking part in such events.
They are putting finishing touches in place to leave the shores of The Gambia for the UK, she said, adding: "The preparation is difficult because you have to train both in the morning and evening."
Nyang, who started athletics training and basketball in 1999, says her aim is to win a medal for The Gambia.
Read Other Articles In Article (Archive)