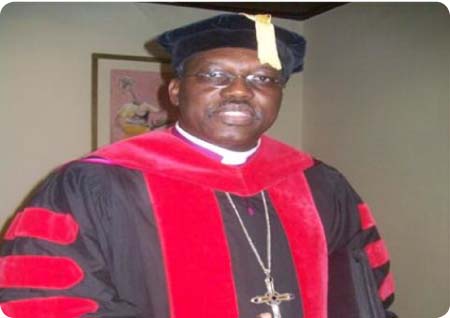 The late Rt. Reverend Tilewa was a peace loving person. It is no wonder then to anyone that he spoke peace and related peace with all persons he came across. In the valleys he spoke peace, at the hill tops he spoke peace.
In nation building he did not lag behind, but participated actively with steadfastness+ straightforwardness served on various national and public committees, and can be remembered best in his years as Vice- Chairman of the Independent Electoral Commission and later Chairman of that all – important institution.
The Rt. Reverend Tilewa believed in the ONENESS of mankind before their creator, a belief that permeated as well as showed through all his public prayers and statements.
Taking over from Muslim prayer he would say: "And so we continue in prayer". This shows that the Rt. Reverend saw no division between what was prayed before him and what he himself was going to pray. It signaled continuity in and towards the approach to the ONE God: the God of Israel, the God of Christianity, the God of Islam.
It is that oneness that has always underpinned his messages and relationships be they official or personal, religious or secular.
I did not relate with Rt Reverend much in the religious domain---; however we had a personal friendly relationship on social matters that I'll always remember him by.
In lawn Tennis, he was a member of many of the organizations: The Banjul Tennis Club where he was player and custodian, the Stadium Tennis Club, Fajara Tennis Club, and associate member of the Tennis Association. My experience with him is that he was a true gentleman on the Court and off the Court: he chatted with everyone, giving good advice and always being an ambassador of peace. He showed a lot of determination on court and all his matches invariably very thrilling. Whatever the situation, he was always gentlemanly and nice to be with.
In DRAMA, we met (maybe for the first time) and interracted in a play entitled "MEDICINE FOR LOVE" that was staged by Women's Contemporary Society. The play director was Sister Gertrude of the Methodist Mission; I was Assistant Play Director. Role of Assistant turned out to be both management on stage, as well as off stage having to make runs to Tilewa's compound on Allen Street to hurry him to play practice. Anyway---- Anyway, …. We had fun. I remember in that play, a witch doctor called Agatarata played by late Mrs. Elsie Danner of Long Street then, prepared a love potion so "X" would be loved by "Y" (Hence 'Medicine for Love). Tilewa then, played the Reverend priest who was to preach against and to attack the evil practice. Tilewa took the pulpit, and was so convincing and moving that late Aunty Dorris Roberts of Fitzgerald Street proclaimed "Dis boy na Reverend iffo be!" Aunty ABBE George said the same, so also did Remi Cole (of Radio Gambia) and one younger sister of Rev. Bankole Coker (don't remember name). I said the same thing. But it was aunty Elsie Danner who took one further step to say "Ef ah nor lie, na Reverend e go be!".
After the play, everyone used to call him Reverend, Reverend in the Streets. Only a few years later, I heard Solomon Tilewa was a priest of the Anglican Mission. I was not surprised; the only surprise for me was I had thought all along that Tilewa was a Methodist (his Wesley School, Methodist halls I used to see him at etc).
-Anyway, I personally called him Reverend all throughout his life…… when he became Bishop…. When he became Arch bishop I just called him Reverend. We both knew it was the wrong title -------- but we chose not to correct it because it gave us fond memories of those early years and that drama.
But friends, today drama is over. I believe it was William Shakespeare who said: "This world is a stage where actors make their entrances and their exits…."
We shall all make our exits in God's time. Rt Reverend Tilewa has taken his exit from life's stage. May Almighty God who called him also grant him entrance to that higher stage from which exits are no more. May Almighty God give to his family courage, comfort, solace until they all meet again one day in that Heavenly Kingdom. We make this prayer through our Lord and Saviour Jesus Christ through whom all good things come.
Do I hear Amen?
Read Other Articles In Article (Archive)