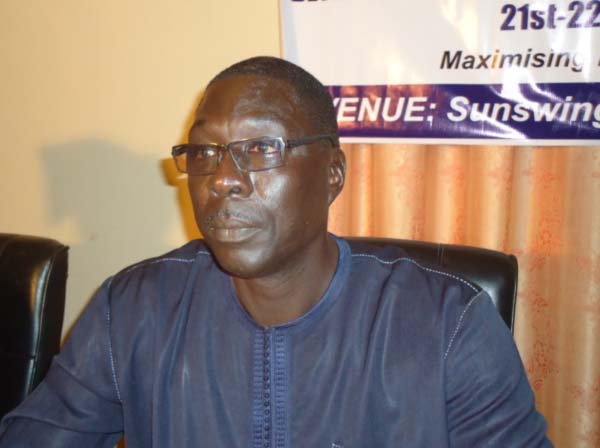 Minister of Trade, Industry, Regional Integration and Employment has said the banning of rice importation, which was to take effect by the end of December 2015, has been extended to September 2016.
Minister Abdou Jobe made this revelation in an interview with The Point yesterday at his office in Banjul.
The extension of the deadline for importing rice into the country is an executive decision from the Presidency, the Trade minister said.
"Based on the President's wisdom for his overreaching global holistic view in the interest of the country, he decided to extend the banning of rice importation from December 2015 to September 2016," the minister announced.
Minister Jobe said that as a minister, working under the guidance and advice of the President, he has notified all players in the business community, especially those dealing in rice importation, of the latest development.
"We have notified all the stakeholders, including rice importers, as well as the Gambia Chamber of Commerce Industry (GCCI), which is responsible for dealing with the private sector, to inform them of the executive decision about the extension of the deadline on banning rice importation into the country," Minister Jobe said.
"I believe that The Point newspaper, being a very proactive media company and coming to enquire about the veracity of the information; if it is published in the paper, people would be fully informed."
It would be recalled that about US$50 million was being spent annually on rice importation from Thailand, India and Brazil, for about 175,500 metric tonnes of rice, while local production of rice stood at 24,895 metric tonnes.
On EU's €1.8 billion to curb migration
Minister Jobe also commented on the €1.8 billion the European Union has decided to give African countries to control and limit the undesirable migration from Africa to Europe through the 'back way', especially undertaken by African youths.
"I represented the President as a head of (The Gambian) delegation accompanied by two ministers and permanent secretaries to attend the AU-Summit in Malta, where the European Union has pledged 1.8 billion euro and other member countries pledged to top up the amount that the EU has pledged."
As a beneficiary country, he added, The Gambia has developed an action plan, which will be concretized to support job creation and skills development for Gambian youths.
The minister continued: "Prior to the summit, the Ministry of the Interior, which is a focal point for migration in The Gambia, has been coordinating project proposals on youth empowerment. This will be concretized for job creation opportunities and skills development for Gambian youths."
Since it is also the responsibility of the Gambia government to do something about it, the ministries have been tasked to carry out the project initiatives, he went on.
"We will continue to work together as a country and rally behind President Jammeh to achieve the laudable development objectives for sustainable development," Minister Jobe said.
Read Other Articles In Article (Archive)