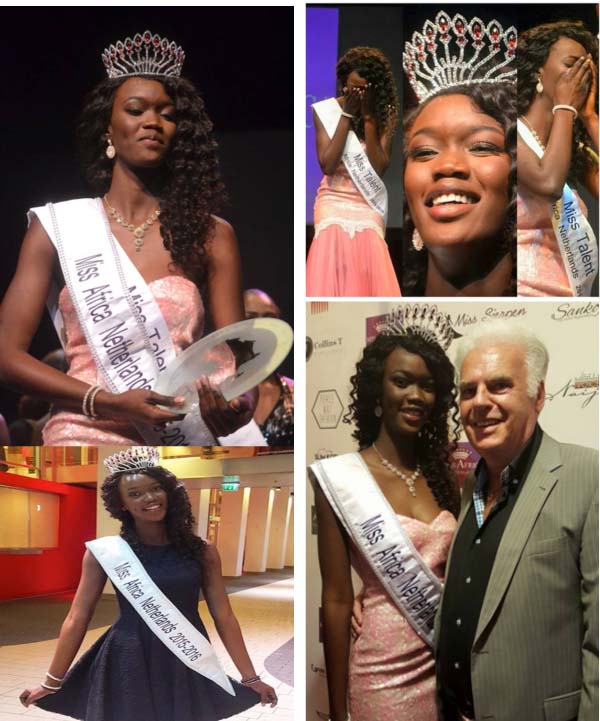 Top Gambian model Adama Jobe was the headline-maker over the weekend, winning the Miss Africa Netherlands crown.
The towering Gambian beauty shoved off nine other contestants drawn from Africa to lay claim on the crown.
In front of a rambunctious crowd, the former WAIS student put pre-stage nervousness to check, and eased her way to clutch the coveted medal and head crown, making her the first-ever Gambian to scoop it.
Last weekend's pageant – like many a cat-walk occasion – involved skills exhibition and Jobe opted for break-dancing, and went on to imitate dead Pop star Micheal Jackson's exhilarating stage moves leaving, in the process, dozen cheering supporters berserk.
'I was very nervous but composed, praying silently as I was about to get on stage. When I got on the stage, everything felt great but winning was the greatest accomplishment,' the 20-year-old who clutched her face in indescribable delight upon being declared winner, said from The Netherlands.
On the daring Michael Jackson impersonation, she heartily said: "I've always loved dancing. When I was in high school I got into break-dancing. I found it interesting because not every girl can see themselves doing it. I chose it as my talent in the pageant, because the first time I told a few friends about it one of them told me 'That's not a female thing to do' and being the feminist that I am, I replied: 'What a man can do, a woman can do,' and so I did."
Adama considers this feat the start of a long chapter and is in no mood to rest on her laurels too soon. She's already intent on setting up an organisation once she jets into The Gambia.
"Well it's one thing to be a beauty queen with a crown but it's another thing to be a role model and change maker. The journey doesn't end here; this is the beginning. I intend on travelling back to The Gambia to start my organization, and start the real work."
Up next for this rising modeling ace is Holland's version of the New York Fashion Week billed for February 7, 2016, where she got selected out of five candidates.
Read Other Articles In Article (Archive)