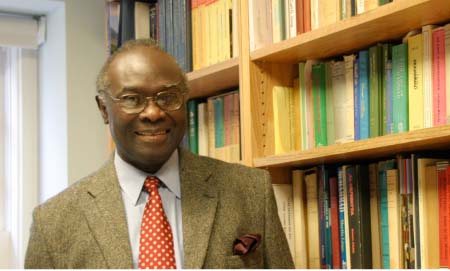 Accra, Ghana, 10 February 2020 – An independent research institute is set to be inaugurated at the University of Ghana as a tribute to the late Professor Lamin Sanneh for his distinguished contribution to scholarship in the study of Islam and Christianity.

Professor Lamin Sanneh, a native of The Gambia, was a D. Willis James Professor of Missions and World Christianity at Yale Divinity School and a professor of History at Yale University. He also taught at the University of Ghana in the mid-70's. Prof. Sanneh who passed away in January 2019 started his academic career as a lecturer in the mid-1970s at the University of Ghana in Accra and went on to win several distinguished academic and meritorious awards.
The Sanneh Institute, as it is known, is dedicated to equipping and resourcing Muslim and Christian religious leaders, theological students, young academics, academic institutions, policy makers and the wider African society through advanced research into, and engagement with, issues at the intersections of religion and society in Africa.
The Institute will work in close collaboration with the Department for the Study of Religions (University of Ghana) and in partnership with Yale University.
As part of the inaugural celebrations, the institute will host Christian and Muslim scholars from Africa, Asia, and the West in series of academic lectures from the 26th-28th of February 2020 on the theme, "Territoriality and Hospitality: Christians and Muslims Sharing Common Space". The climax of the week-long inaugural activities will be a public lecture on Saturday, 29th February2020 at 8.30am at the University of Ghana, Legon-Accra. The inaugural lecturers are Dr. Rowan Williams, former Archbishop of Canterbury and Professor Farid Esack, a leading Muslim scholar and professor at the University of Johannesburg.
The event will be chaired by the Vice Chancellor of the University of Ghana, Professor Ebenezer Oduro Owusu, with His Excellency the Emir of Kano, Muhammadu Sanusi II; and the Gambian High Commissioner to Ghana, His Excellency Amadou Sheikh Oman Taal, as Special Guests. The inaugural lecture will share insights on the significance of peaceful coexistence in our societies especially among Christians and Muslims in Ghana and Africa as a whole. Borne out of a longstanding vision to establish an African Centre for the advanced study of Islam and Christianity, The Sanneh Institute seeks to provide academic leadership in raising a new generation of religious figures with theological humility and intellectual curiosity in the other, under the leadership of Prof. John Azumah, the Founding Executive Director.
Read Other Articles In Article (Archive)