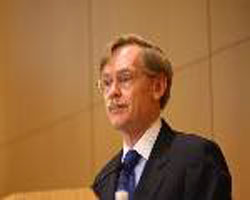 As I noted at the start of these meetings, the drive to address climate change won't work if it's seen as a rich man's club. It is very important to have developed and developing country ministers at the table so that the developing country voices can be heard.  
The Bali Breakfast builds on an initiative taken by Indonesia at the time of the U.N. meeting on Global Climate Change. I hope this will become a regular meeting of development and finance ministers at the Annual and Spring Meetings to discuss climate change issues. We will be following up to help developing countries integrate adaptation and mitigation strategies into their development plans.
Before these meetings I outlined priorities that I believe can help meet immediate needs while also paving the way for a more inclusive and sustainable globalization.  
One of these was how we can help countries manage and transform their natural resource wealth into long-term economic growth that spreads the benefits more fairly among their people. I am very pleased that yesterday we launched the EITI++ initiative and that Guinea and Mauritania have asked for our assistance in piloting this approach. I am encouraged by the early support of African institutions, and some NGOs with a strong record in this area. This initiative is an important step toward reversing the resource curse.  
I also outlined a One Percent Solution to build equity investment in Africaso that it can become a complementary growth pole in 10-15 years, just as China, India, and others are complementary poles today.  The allocation of even 1% of the assets of Sovereign Wealth Funds to equity investment in Africa could draw $30 billion to African growth, development and opportunity. I am pleased that we have had very positive feedback on this idea and are following up in discussions with Sovereign Wealth Funds. The International Finance Corporation (IFC) is discussing a number of possible approaches: investing alongside IFC in projects, investing in multi-country funds, or in joint ventures.  
Let me now turn to the food crisis.  I came into these meetings underscoring the vital importance of launching a New Deal for Global Food Policy. Part of that New Deal is meeting the immediate crisis needs of those who are now facing hunger, malnutrition, and even starvation across the world. Throughout the week-end we have heard again and again from Ministers in developing countries and emerging economies that this is a priority issue.  
As we assembled, Prime Minister Brown of the United Kingdom released a letter that he sent to Prime Minister Fukuda, the host of the G-8 Summit, calling for combined international action on food. This weekend, President Yudhoyono of Indonesia sent U.N. Secretary General Ban Ki-moon and me a letter pressing for the same.  
I am pleased that today at the Development Committee Ministers have endorsed the New Deal, and that they also called on donors to fill the $500 million feeding gap identified by the World Food Program.  
I also welcome the decision that high commodity prices and their impact on growth and development will be a topic for the G8 Finance Ministers in Japan in June. This is important and can help build towards that New Deal.  
But, frankly speaking, the G8 meeting is in June and we cannot wait for that.
We have to put our money where our mouth is now - so that we can put food into hungry mouths. It is as stark as that.  
Just yesterday, we saw that the Government of Haiti fell. While I know that President Preval is committed to continuity and stability, and will maintain his focus on economic and social development, this just underscores the importance of quick international action. We are granting an additional $10 million to Haiti for feeding programs, and I understand others are looking to help.                 We are also responding in a number of other countries with conditional cash transfer programs, food for work, planting for the new season, and we are looking at how we can step up that support as part of short-term and medium term actions.
The World Food Program has asked countries to respond to its appeal for $500 million by May 1st and it has received indications of commitments for almost half of the money it requires. But that is not enough. It is critical that governments confirm their commitments as soon as possible, and others begin to commit. Prices have only risen further since WFP issued that appeal, so it remains urgent that governments step up.
But it is also critical that we push ahead with more medium term actions to make agriculture a priority.
Based on a rough analysis, we estimate that a doubling of food prices over the last 3 years could potentially push 100 million people in low income countries deeper into poverty. This is not just a question about short term needs, as important as those are. This is about ensuring that future generations don't pay a price too. Hunger, malnutrition and food policy have formed a recurrent theme at this weekend's meetings, and I believe that we have made progress. But it will be important to continue to retain the focus on this as we leave Washington.  
I would like to thank Chairman Carstens for his leadership and support, and Dominique Strauss-Kahn for being an excellent partner as we seek to overhaul these institutions at a time of international economic challenge. I would also like to thank the many hard-working individuals of the World Bank Group for their excellent efforts, not only for these meetings, but for their contributions every day.
Read Other Articles In Article (Archive)