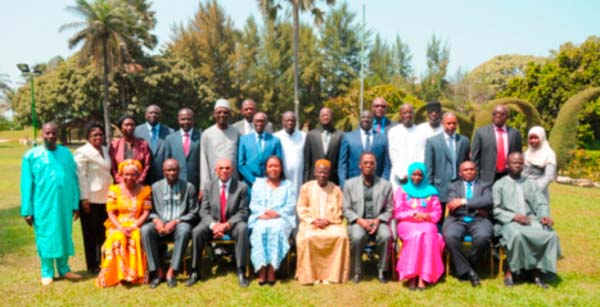 The 22 reinstated Gambian ambassadors Monday held talks with the Minister of Foreign Affairs, International Cooperation and Gambians Abroad.

According to officials of the ministry, the diplomats met the new minister for introduction purposes, as well as to make their contributions, ahead of the new foreign policy validation.
Speaking at the meeting, Ousainou Darboe, Minister of Foreign Affairs, International Cooperation and Gambians Abroad, thanked the ambassadors for the step they took during the difficult time.
He said their step to call on former President Yahya Jammeh to step down influenced the process.
"You have shown the world that when it comes to push, you are prepared to give The Gambia a good image as our image has been tarnished."
"We are grateful for that. Your reinstatement was done in pursuit of our policy. We do not believe that any person serving in the former government should have his or her services temporarily dispensed with, because we believe in due process," he said.
Mr Darboe said all missions are important, but they are very much concerned about the missions in Washington, United Nations, United Kingdom, and Ethiopia as headquarters of African Union, and Nigeria as headquarters of the ECOWAS.
Speaking earlier, Lamin Faati, Permanent Secretary 2 at the Ministry of Foreign Affairs in Banjul, said there is a new government in place and it was important for the diplomats to use the opportunity to meet the new minister.
He recalled that during the impasse, the ambassadors put pressure on the former government to relinquish power.
"As ministry of Foreign Affairs, we decided to have an interaction with the minister since they are in the forefront of diplomacy and foreign policy," said PS Faati.
Also speaking was Dembo Badjie, dean of the Gambian diplomats and Gambia's Ambassador to the Peoples' Republic of China, who said some months back the ambassadors articulated their views on the prevailing circumstances in the country at the time, because they felt that diplomacy is about image.
He said on 2 December 2016, The Gambia was on the world map for all the right reasons and, again on 9 December, the country was on the world map for all the wrong reasons.
"As the representatives of the country abroad, we felt that it is our professional duty to speak out on the issues and ask the former government to step down, and to ensure the peaceful transfer of power to the president-elect at the time, Adama Barrow, in accordance with the will of the Gambian people."
He thanked the government for reinstating them in their positions, recalling when the decision was made by the former president for their jobs to be terminated.
Ambassador Badgie assured the new authorities in Banjul that they would remain resolutely committed to supporting the government, and will continue to do their job professionally "in the best interest of the government of The Gambia and Gambians."
Read Other Articles In Article (Archive)