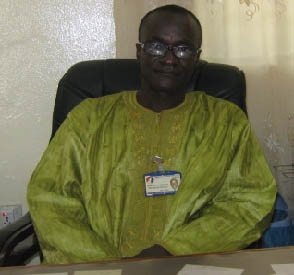 Spotlight On GAMPOST
Several institutions can justifiably lay claims to fuelling the transformation of Gambia's status. But it is Gambia Postal Services Corporation (GAMPOST), much more than any other institution deserves to be credited for eminently successful in enhancing the postal services.
GAMPOST has over the years made positive progress as a result of policy reforms, which has surely improved its services and promote value-added activities and new services.
Beginning as the Department of Posts, it went through a chequered history dating back over 150 years to 1858 when the British introduced international postal services in The Gambia. Domestic mail services started in 1922, with the introduction of the "Prince of Wales", the travelling Post Office boat.
During the colonial administration, the Departments of Post and Telecommunications, Customs, and Treasury provided the postal services, which were all headed by the Receiver General. When the Gambianisation of the civil service began, the three units were separated into autonomous departments, and the Department of Post and Telecommunications was given it's own Department Head.
The present Department of Posts was created in 1976, when the former Department of Posts and Telecommunications, which was responsible for both domestic postal and telecommunications services, was split into two separate departments.
 In 1984, the Government commissioned a study on the creation of an autonomous postal service. The outcome of the study showed that the time was not right for the postal service to change its status.
An update of the study was carried out in 2004 / 5 and as a result GAMPOST was created by an Act of Parliament in December 2005.
January to June 2006 was a transition period for new entity. In July of the same year, a Board of Directors was constituted.
"We have launched a Web site to provide our customers and partners around the world with improved services. We have also developed a database along with an online inquiries handling system to facilitate the handling of inquiries about mail and packages we process.
"As we go forward into the new millennium, you can count on us to redouble our efforts to provide you even better and greater variety of products and services," where the words of GAMPOST dedicated and enterprising Managing Director, Mr. Momodou Ceesay.
With Mr. Momodou Ceesay at the helm of affairs, it is already reflecting the outstanding pedigree of international standards.
GAMPOST also provides some financial services such as saving accounts, the sale and encashing of postal orders, domestic money transfer and western union (payment only).
Postal customers can open and operate a savings bank account at any of their branches, and under the following terms:
Minimum amount to open an account is D100.00
Interest rate is 7.00% per annum.
A maximum of four withdrawals is allowed per month.
There are no restrictions on number of deposits that can be made per month.
A fee of D100 is charged for closing an account.
Thus, the GAMPOST savings accounts not only have attractive terms and conditions, they are also backed by the solid reputation of a public institution with a long history of service.
The GAMPOST also sells and encashes British Postal Orders. Postal Orders are a safe and trusted way to send money, and can be exchanged throughout the  Commonwealth.
The saying: If it must be done, it must be done well.
In a chat with GAMPOST dynamic Managing Director he revealed that GAMPOST Domestic Money Transfer offers
*           The most reliable way to send and receive money
*           The cheapest and most confidential way to send and receive money
*           The easiest and the most secured way to send and receive money to any of our branches in the Gambia.
He said GAMPOST offers a variety of mail services, mainly in the delivery of letters, packets, and parcels.
In addition to mail services, the GAMPOST provides post-postage services that allow various organizations, businesses to post their mail on credit, and be billed each month for their total postage charges. This service not only saves participating organizations and companies a lot of energy and effort, but it also provides valuable means of saving money.
The Gambia Postal Services Corporation offers a various products and services, ranging from postage stamps, to package delivery, and savings accounts.
Mr. Ceesay added that GAMPOST also provides courier service in partnership with other postal administrations.
The GAMPOST is a Gambia government agency, under the Department of State for Communications, Information and Information Technology (DOSCIT).
Mr. Ceesay said that GAMPOST range of services and facilities has been upgraded to meet international standards and more importantly exceed your expectations.
He said GAMPOST has undertaken reforms in its processes and procedures to achieve the objectives of the county's vision.
Mr, Ceesay, commonly known as MB, is one the persons behind GAMPOST's on-going development drive. He joined the postal services in 1975. In 1979 he left the country to further his education in the United States of America. In 1984 he returned home and went back to postal services, and from then, unless he was briefly posted to the Ministry of Works and Communication as Deputy Permanent Secretary Works with Postal Services.
He was recalled to the postal services in July 2000.
Read Other Articles In Article (Archive)