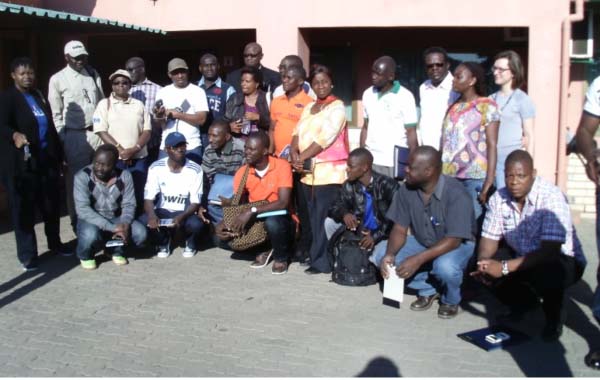 At least twenty-five participants from four African countries' Forest and Farm Facilities (FFF) - Zambia, Kenya, Liberia and The Gambia - recently concluded a seven-day field oriented training on Market Analysis & Development approaches at Livingstone, Zambia.
The training, which ran from 10 to 16 May 2015, was facilitated by Isabelle Lecup, author of the approach, Kanimang Camara, FFF facilitator of The Gambia, and Regional MA&D trainers for Africa.
One participant from each of the Forest and Farm Producer Organizations (FFPOs) was invited to represent his or her organization, such as the National Farmers Platform (NACOFAG), Federation of Gambia Cashew Farmers Association and All Gambia Forestry Platform.
Speaking to this reporter shortly after the wrap-up of the workshop, Mr Kanimang Camara, national facilitator of FFF in The Gambia, said several market analysis and enterprise development approaches are used in the natural resources sector.
The training was based on an approach that draws heavily from FAO's Market Analysis and Development (MA&D), which specifically aims at assisting people to achieve a sustainable livelihood system in which their household and community economic assets are increased and natural resource management is improved.
"The main strength of the MA&D process is the high degree of community involvement in the planning and design of the enterprise and finally the business plan," Mr Camara stated.
Its focus is on building the capacity of local people to become entrepreneurs, he said, adding that by taking into consideration the environmental, social, technological and commercial aspects, "MA&D assists communities in directly linking natural resource management and conservation activities to income generating opportunities".
The MA&D approach ensures four important aspects of sustainability. These are resource sustainability, market sustainability, social/institutional sustainability and technical sustainability.
Resource sustainability:
The MA&D process utilised by the project provides safeguards for developing markets and products that do not lead to resource overexploitation.
An integral part of the process in identifying and planning potential enterprises is the assessment of the sustainability of local environments.
Market sustainability:
According to Mr Camara, the process, which strengthens the potential for sustainable natural resource management includes market sustainability. Changes in the market environment will be assessed and products adapted in order to remain competitive and attractive to targeted customers.
Social/institutional sustainability:
The project's focus on capacity building and strengthening institutions at the local level to support the development and success of small enterprises.
"One of the long-term goals of the project is for community members to develop and operate their enterprises independently," he said.
Technical sustainability:
The project will also assist in identifying potential areas of conflict and will promote equitable distribution of benefits thus, technical sustainability.
Under this, community members will be trained to utilize and maintain equipment and gain an understanding of production, manufacturing and marketing processes.
According to the national facilitator of FFF, Mr Camara, major outcomes of the training were: Participants renewed and acquired understanding of the basics of the MA&D approach.
Participants prepared draft country work plan for how MA&D will be implemented in the field as part of existing FFF programs and partnership agreements, especially linkages to FFF Small Grants scheme; coordination and resource sharing agreed uponbetween FFF networks and partners on responsibilities and strategies for in-country MA&D activities.
Participants are able to identify and reflect on how MA&D can feed into and complement ongoing projects around rural livelihoods and enterprise development.
Each country group is prepared to follow up on their work plan and monitor progress for a second training course.
Read Other Articles In Article (Archive)