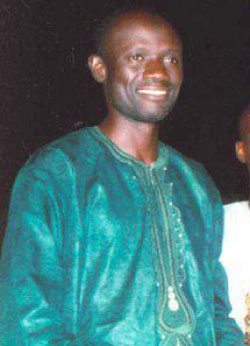 He may not be as young as they might want the country's new youth minister to be but Minister Alieu K. Jammeh seems to be a favourite for many youth leaders.
Following his recent appointment as the Minister of Youth and Sports, we sounded the opinions of some youth leaders and activists about former Permanent Secretary Jammeh at the helm of affairs at the young people's ministry.
First to speak to Youth Forum was Marchel Mendy, executive secretary of the National Youth Council. The development, he said, is a move in the right direction.
He confirmed that it was part of the resolutions in one of the past NAYCONF's that young people demanded that the Minister of Youth should be a youth.
For him, with this development, government has responded to that call since Alieu is still under 40.
"And also he has been in the ministry for quite a long time going through the ranks," he said.
The NYC boss added: "If my memory serves me well he is the only minister who went through all the ranks before becoming minister as far as the youth ministry is concerned."
According to Mr Mendy, Alieu knows the issues of young people through working with them and thus deserves the post.
"We just wish him a good luck together with the good team he has," he remarked.
For his part, Abdul Jobe, National Coordinator of Youth Crime Watch The Gambia, said: "With this development we are fast approaching the resolution. I believe this is a starting point for what we were calling for."
Jobe also said it is not age that necessarily matters but having a young mind is equally essential.
Abdou Boye, National Coordinator of Youth Employment Network (YEN) Gambia Chapter, also congratulates the new minister for his appointment on behalf of his group.
He expressed hope that Alieu would continue to champion the cause of young people, particularly as regards their employability.
"He has more advantages; he is not new in the ministry and could use his experience and the recently launched Programme for Accelerated Growth and Employment blueprint to foster youth employment," Mr Boye added.
Abdou Jatta, Unicef Africa Youth Spokesperson, noted that the new minister has the quality to lead the country's youth to the attainment of their aspirations.
Jatta, who is also a member of the National Youth Parliament, said: "For me I really have confidence that he would live up to expectations. He has been with us in the struggle and really knows the problems of youth."
The less than 40-year-old Illiasa born attended primary school in Illiasa and Farafenni before moving to Armitage High School in Janjangbureh, where he did his O' Levels.
He later did his A' Levels at the Gambia High School. Minister Jammeh obtained his BA degree in Public Administration in Uganda on an Organisation of Islamic Countries scholarship.
He later obtained his MA degree in Political Science in Malaysia on a university scholarship. He also obtained a Master's degree in Post-War Recovery Studies on a Commonwealth scholarship in the United Kingdom.
Minister Jammeh has worked with the Gambia government since 2004 in various capacities at various sectors such as the Personnel Management Office (PMO), Ministries of Tourism and Culture and Local Government and Lands.
In 2008 he was moved to the Ministry of Youth and Sports and served as principal assistant secretary, deputy permanent secretary, and permanent secretary until his recent appointment as the minister of Youth and Sports.
Mr Jammeh also worked at Guaranty Trust Bank and the West African Network for Peace Building (WANEP) before joining the APRC government.
Read Other Articles In Article (Archive)