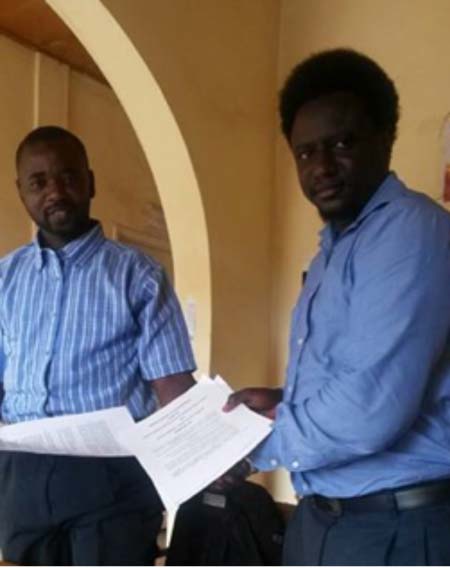 Global Youth Innovation Network (GYIN) Gambia and Managers' Prescription Consultancy Firm on Monday signed two official documents, a memorandum of understanding (MoU) and a contract agreement, to support youth in the area of entrepreneurship through a three-month mentorship programme.

Under the documents signed, both institutions committed themselves to supporting rural developments through a mentorship programme that will promote entrepreneurship in rural areas.
As part of the agreement, 25 rural youth (15 males and 10 females) would undergo a three-month mentorship programme, starting first week of August 2017.
Speaking at the signing ceremony, Executive Director of GYIN Gambia Ambassador Mamadou Edrisa Njie said that there is great need to support youth especially those in the rural areas in the areas of entrepreneurship mentorship.
"My office is aware of the lack of mentorship that many rural youth lack, therefore, we're piloting this programme to fill the gap and we hope that the programme will become a bigger one."
According to Ambassador Njie, the mentorship programme is to create and support an enabling environment under which young people in the country can act on their own behalf and on their own terms, and to facilitate exchange of experiences, learning and networking for young entrepreneurs. .
As part of the signing, the two institutions entered into an official agreement to promote and support rural under-served youth in the area of agriculture and small scale agri-business by learning and sharing entrepreneurial experiences and best practices.
"Our pilot programme on mentorship will also facilitate a social youth platform that would develop the leadership potential of Gambian youth and prepare them to take charge of their leadership roles and responsibilities in national development."
Speaking on behalf of Managers' Prescription Consultancy Firm, Managing Partner Ousman Sonko thanked GYIN Gambia for the confidence bestowed in him and his team for entrusting them with the implementation of this partnership on youth mentorship.
Mr Sonko indicated that they will not only work towards a successful implementation of this pilot phase but will further support GYIN Gambia in their future endeavours in contributing to the fulfillment of the wishes and aspirations of Gambian youth.
Mr. Sonko, on behalf of the members of his team at Manager's Prescription Consultancy Firm, took the opportunity to express their passion for youth empowerment as catalyst for sustainable national human development.
He went further to explain that youth issues are crosscutting; hence, it is the business of everybody and should not be viewed as a sectoral matter.
The MoU and the Contract Agreement was signed by GYIN Gambia's Executive Director, Ambassador Mamadou Edrisa Njie, and the Managing Partner of Managers' Prescription, Mr Ousman Sonko, signed on behalf of his office. GYIN press release
Read Other Articles In Article (Archive)