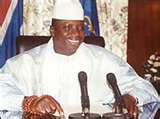 Reports reaching this paper from North Bank Region of The Gambia intimate that a tumultuous reception awaits President Jammeh in the region later today as he embarks upon his Dialogue With People tour.
Speaking in a mobile phone interview with this medium on the line from North Bank Region (NBR), the APRC Desk Officer for the region, Hon. Alhaji Ablie Suku Singhateh, revealed that the people of North Bank Region have already marshalled themselves to accord President Jammeh and retinue a reception that's never witnessed in the 13-year APRC rule.
According to Desk Officer Singhateh, the people of his region are so impressed with the level of development in their region over the last 13 years that they're poised to give the President and entourage a welcome that will be unprecedented in the history of the APRC party.
" The people have already rallied themselves to give the leader a reception befitting his station. It will be all fanfare and razzmatazz. It will be colourful, rapturous, tumultuous and entertaining," said Hon. Singhateh.
For the regional desk officer, the determination and the energy shown by the people of North Bank to welcome President Jammeh in grand-style could be justified by the 'limitless development' that the President and his party has brought and continue to bring to their living-rooms.
' The rural electrification programme, provision of safe drinking water, the faultless road network, the APRC General Hospital in Farefenni, schools and many more social amenities that I need not mention are glaring indication of the Head of State's love for the people of North Bank and we're poised to reciprocate,"  he added.
Meanwhile, the Gambian President and delegation will later today cross River Gambia to the other bank of the river. The President and delegation will cross over to Barra as day one of his Dialogue With the People tour gears into motion.
The Gambian leader is expected to be engaged in a series of activities such as a visit to Amdallai, a ground-swelling rally in Kerewan and a mouth-watering victory celebration in Farafenni.
Read Other Articles In Article (Archive)