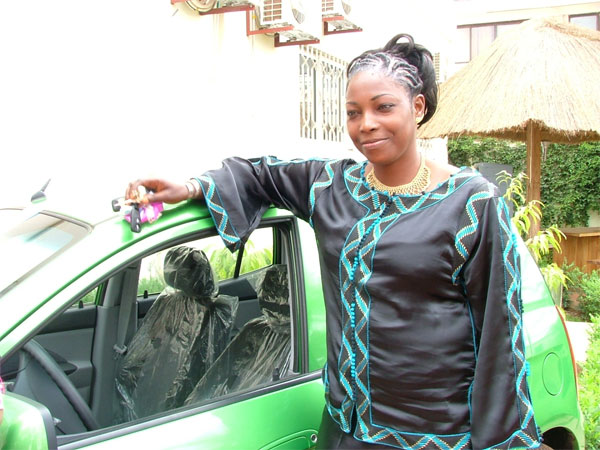 Comium, another telecommunications company, over the weekend presented the first of three cars to the lucky winner at their premises on Kairaba Avenue.
The elated proud winner of Comium's first brand new car, Awa Jarra, received the keys and  documents handed to her by Mr. Drammeh of Comium company.
In her speech of appreciation, Awa Jarra, a Senegalese lady who shuttles between Senegal and The Gambia frequently, expressed her delight and said tthat here was no secret behind her winning with Comium. "I always buy Comium credit whenever I am in The Gambia. I did not know I was going to win; I never thought about it. I feel very happy as a winner of Comium's Dream car that has made my dream come true. I still feel I am dreaming as I think about the car I have won, it is unbelievable," Awa Jarra enthused.
Awa Jarra further said that she comes to The Gambia every two or three days. "I was called by a family member of my host, called Lamin Fatajo. He called me saying I had won the Comium car for April." She opined that it is better to call one's friend before visiting than to go in a car to see them. "In this instance," she suggested, "you need to buy Comium to stay in touch."
Rabiatou Ceesay, Communications Officer at Comium, said: "We are giving out our first car among three cars to be won by our valued customers. We ran two campaigns at the same time; Recharge and win and Drive your Dream Car with Comium. Now in recognition of our anniversary, we would be giving out D125, 000 to five winners every week, in addition to numerous prizes.
"We shall be throwing thunder and lightening this May and remember, where thunder and lightening strike, birds will not not fly."
Rabiatou Ceesay then catalogued the numerous prizes won by their customers within a year of service. "We have given 20 people D25, 000 each; we gave monitary rewards from D2, 000 to D50, 000. We gave two tickets to Mecca and have taken part in many loyalty campaigns. We have rewarded Gambians with Talk and Win - One MIllion Dalasis, Guess and Win and now rewarding the people for recharging." She declared that so many surprises have been lined up for May such as Gambians have never seen. She therefore exhorted everyone to get a Comium SIM before it is too late.
Read Other Articles In Article (Archive)