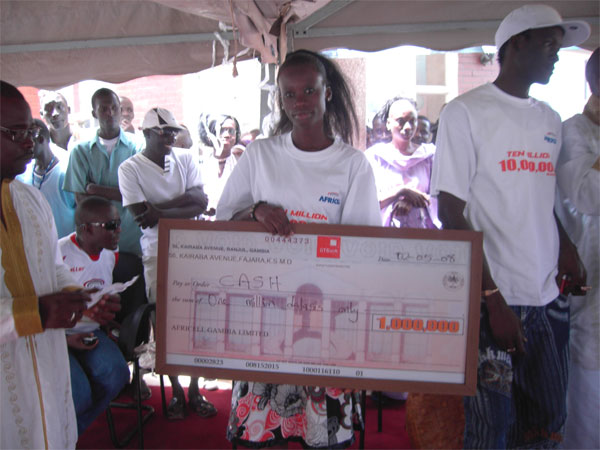 Africell Gambia Limited, one of the three cellular companies in The Gambia, has again doled out D1 million to yet another lucky winner in the first draw of the company's D10 million 2008 promotion.
Mary Jatta, 20, on Saturday 3rd May, went home D1m richer after emerging as the first winner of Africell's 2008 mega Thank You prize.
A trainee nurse currently on attachment at Medical Research Council (MRC) and resident in Old Bakadaji Latrikunda, Mary was short-listed alongside Foday Baldeh and an unknown person but edged her way to the prize following what was described as a free, fair and transparent draw.
Speaking to The Point Ms Jatta said: "I thank God for making this possible," while thanking Africell for what she called their benevolence and steadfastness in helping government eradicate poverty in The Gambia. 
As to how she would spend the money, Mary said she would use it to further her educational career as a nurse and help enhance the living condition of her parents, adding that her family is already well-to-do.
"Africell is really here for Gambians. A lot of Gambians are today benefiting from things that they never think of, all thanks to Africell," she said.
Speaking at the presentation ceremony held at Africell head office, Mr. Badara Mbye, Africell's Managing Director, described the occasion as a clear manifestation of the fact that Africell always stand by whatever they say.
"We said that we are going to alleviate poverty in this country and this is a move in the right direction. This goes to show that we are committed. Africell is here for Gambians," he said.
According to MD Mbye, being an Africell subscriber makes one always a winner, noting that this is the first of a 10 million dalasis to be given out in the space of 10 months. "We have more surprises for you during the course of the year," he concluded.
Read Other Articles In Article (Archive)